UK MoD denies tabloid reports RAF 'ready to shoot down' Russian planes over Iraq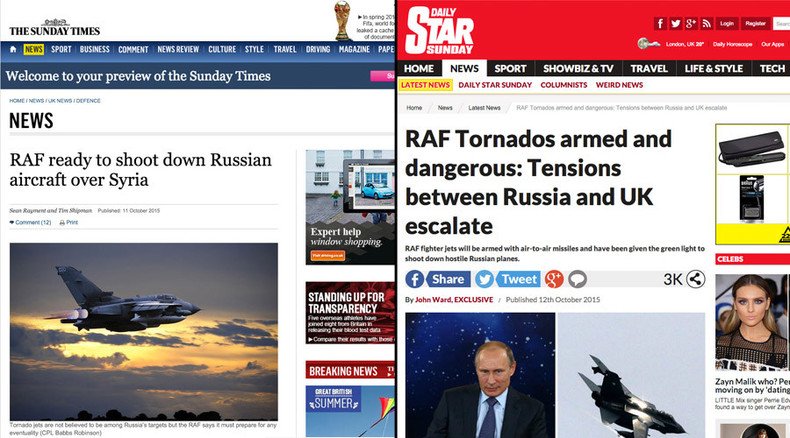 UK media allegations that RAF pilots in Iraq had been authorized to shoot down Russian fighters in case of imminent threat have prompted a response from Moscow. Britain's military says there is "no truth" in the reports.
The initial report was published by The Daily Star and The Sunday Times. It claimed that an "unidentified source" in the British military told the media that Royal Air Force's Tornado GR4 involved in Operation Shader in Iraq against Islamic State from now on are going to be armed with ASRAAM (AIM-132) short range air-to-air heat-seeking missiles to be prepared to "to shoot down Vladimir Putin's jets," The Sunday Times reports.
So far, the RAF jets took off armed with "500lb satellite-guided bombs only," but as the source in British Defense Ministry put it, "in the last week the situation has changed. We need to respond accordingly."
British pilots have been allegedly instructed to avoid contact with Russian aircraft.
"The first thing a British pilot will do is to try to avoid a situation where an air-to-air attack is likely to occur — you avoid an area if there is Russian activity," an unnamed source from the UK's Permanent Joint Headquarters (PJHQ) told the Sunday Times. "But if a pilot is fired on or believes he is about to be fired on, he can defend himself. We now have a situation where a single pilot, irrespective of nationality, can have a strategic impact on future events."
"No one knows what the Russians will do next. We don't know how they will respond if they come into contact with a Western jet," the source said.
The Russian Air Force is not executing any operations in Iraqi airspace, so in theory any interaction between Russian and British warplanes is out of the question. Yet the very raising of the issue provoked a hardline response from both the Russian Foreign Ministry and Defense Ministry.
Sergey Lavrov's office issued an official request to the British Foreign Office, demanding explanations. The diplomatic note was delivered by Russian Ambassador to the UK Aleksandr Yakovenko.
"We are concerned by media reports as far as they refer to senior members of the Cabinet. We urgently requested the UK Foreign Office's clarifications. At the same time, the hypothesis itself of a potential conflict between British and Russian aircraft in the skies over Iraq is incomprehensible. As is known, the Russian jets are not involved in attacks on ISIL targets on [Iraqi] territory," the Russian ambassador told RIA Novosti.
The British military attaché in Moscow has also been summoned to the Russian Defense Ministry, where he was handed a note demanding that he explain whether it is true that British pilots have been given a "shoot to kill" order regarding Russian aircraft.

Although the MoD's spokesperson said in their official news blog: "There is no truth in this story," answers to both requests are pending.
British Tornado GR4 fighter jets operating in Iraq were manufactured more than a quarter of a century ago, whereas the Russian Sukhoi Su-30SM fighter jets ensuring air escort for the assault groups in Syria entered service in the 21st century and are a step ahead of their British counterparts in every way, including inventory and radar range.
"All operational flights [in Syria] are being performed with activated defensive onboard [radioelectronic combat] gear," Igor Konashenkov, Russia's Defense Ministry spokesman, said on October 3. This means that locking on to a missile on Russian 4++ generation fighter jet would be a tough assignment for a veteran British aircraft.
You can share this story on social media: