Gone in 15 seconds: $1.2mn system disables drones simply by blocking radio signals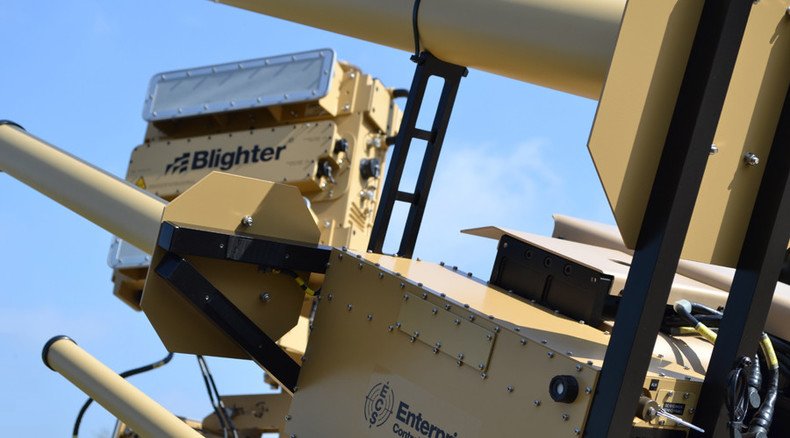 Engineers claim to have designed the first fully integrated system to detect, track and disrupt drones, regardless of their size. The Anti-UAV Defense System (AUDS) can spot a drone 8 km away and halt its flight in less than 15 seconds without bloodshed.
The AUDS system is said to be effective even against micro- and mini-drones at ranges of up to several kilometers. It detects a drone using an electronic scanning radar, tracks it with infrared and daylight cameras and then finally cuts short the flight using an inhibitor to block the radio signals that control it.

The AUDS has been developed and manufactured in the UK, with the production version available for £800,000 ($1.2 million). The system, designed for countering drones or remotely piloted aircraft systems in border sites or urban areas, can be operated from fixed locations and from mobile platforms. The AUDS units consist of an electronic scanning air security radar, a stabilised electro-optic director, infrared and daylight cameras, and a directional radio frequency inhibitor to track down, classify and neutralise drones.
Countering unmanned aerial vehicles (UAV) has recently become a challenge for the military and security forces across the world, Graham Beall, managing director of one of the system's developers, Chess Dynamics, said in a statement. According to Beall, in the near future drones are expected to be increasingly used for terrorism and espionage for one simple reason – they can carry cameras, weapons, toxic chemicals and explosives.

AUDS was launched in May and developed by Blighter Surveillance Systems, Chess Dynamics and Enterprise Control Systems. It has already proved successful in counter-drone trials, detecting and disrupting a range of fixed and rotary wing drones.
READ MORE: Walking robot uses drone to help traverse tricky terrain (VIDEO)
A special quad-band inhibitor makes it possible to disrupt the different licensed telemetry bands of commercial drones, regardless of where on Earth they have been designed and licensed for use. Both the 433 and 915 MHz frequencies commonly used by drones can be disrupted, as can the 2.4 GHz control band and the global satellite (GNSS) bands, the engineers say.

The new optical disruptor can be meanwhile used for both pointing at a drone for identification and/or disrupting the automatic gain control settings in the drone's camera system so that the operator loses visibility. The team has modularised the AUDS system to reduce the single lift weight down to 25 kg, with all the different elements (radar, cameras, and radio frequency inhibitor) clipping together.

"Carefully controlled disruption of these command links – and the use of the optical disruptor - significantly impairs the operator's ability to control the drone and forms a key part of the spectrum of techniques used by the AUDS system to mitigate the malicious use of drones," CEO of Enterprise Control Systems, Colin Bullock, said.
You can share this story on social media: