Blast hits foreign troops' convoy in crowded Kabul area, injures civilians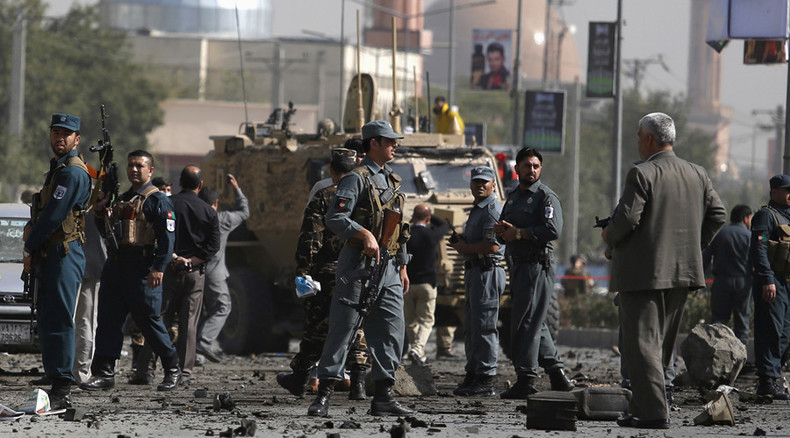 An alleged suicide bomb attack on a convoy of foreign troops took place on Sunday morning in the Afghan capital.
"It was a suicide bombing against a foreign forces convoy in a crowded part of the city and there are casualties," Reuters initially quoted Najib Danish, deputy spokesman for the interior ministry.
The blast severely damaged two armored vehicles of the convoy and injured three local residents who happened to be near the explosion's epicenter. No casualties were reported among the foreign troops or civilians, TOLOnews cited Afghan officials as saying.
#Breaking update: suicide attacker hit NATO convoy in Senamai Pamir Area of Kabul city , causality feared.

— Miraqa Popal (@Miraqapopal) October 11, 2015
The blast occurred at 9:20 a.m. local time on Sunday, while the convoy was passing through the area, damaging both vehicles of the military convoy and civilian cars nearby.
Medical teams and security arrived at the scene quickly, TOLOnews journalist Mirabed Joyenda reports, and the wounded were immediately taken to the hospital. The site of the attack has been cordoned off by security forces.
So far no group, including the Taliban, has taken responsibility for the attack.
The US-led NATO International Security Assistance Force (ISAF) officially ended its mission in Afghanistan at the end of last year, handing over full control of security in the country to Afghan forces. The western troops in Afghanistan are remaining for a non-combat mission during a transition period.
Afghanistan remains in political and social turmoil as various forces, such as the Taliban and Islamic State, are attempting to use the interim period to gain more control over the situation in the country.
At the end of September, the northern city of Kunduz was seized for a short period of time by Islamist insurgents and although they were repulsed from of the city, the fighting between the government troops and jihadists continues.