Hide, it's RT! Amateur journo behind Bellingcat so informed on Russian targets, he ducks interview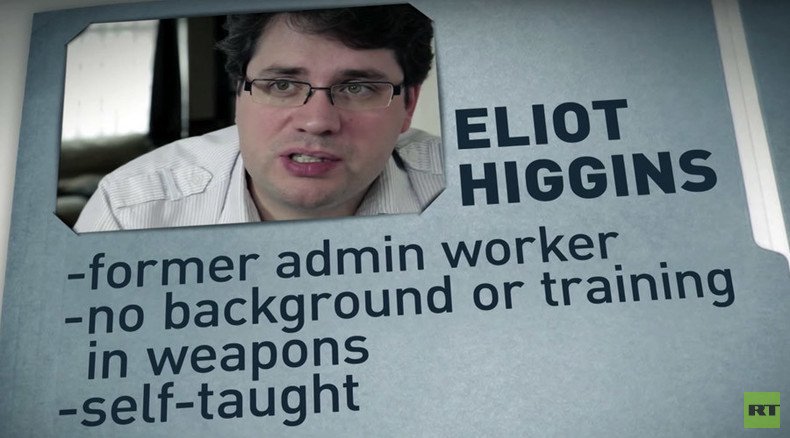 While the man behind the British online investigative group Bellingcat, Eliot Higgins, has been "exposing" Russia's military missions and alleged propaganda, RT decided to meet the man in person. Apparently, the "expert" preferred to duck and cover.
READ MORE: Bellingcat accuses Russia of faking videos showing jets dropping bombs on ISIS
Like a Russian frigate in the Caspian Sea, Higgins has been launching verbal missiles from Twitter, seemingly furious after RT tried to speak with him face to face to get his side of the story – fair journalism, you know.
Watch to learn more about Higgins:
Sure, it "says a lot about our work," Higgins bragged, after RT's coverage of his reporting methods – although it says even more about the Western media outlets that have been frenetically citing Belligcat's 'findings' as reliable data.
But wouldn't it be "better to go on camera on your foes platform and defend your work, the audience will know if you a good analyst," as a side observer Samba Jawo suggested on Twitter?
Well, perhaps that little "if" was the problem. The amateur truth-digger, who could have said whatever he wanted directly to RT, decided not to. Could it be because RT, from his opinion, "will approach any old nutter as long as they know they'll say bad things about the person they're attacking"? Surely, an analyst of his stature would be distinguishable from an "old nutter."
Or is it about stage fright, worrying that he wouldn't stack up well against "a bunch of random idiots" in one piece of coverage?
(You may want to check the profile of the guest commenting on Higgins' 'research' methods and overseas funding, and decide for yourself who is the expert and who is the one into "smearing")
By the way, Higgins does not have a high opinion of RT's viewers either.
So, Higgins simply hung up on Nimrod Kamer, who was trying to meet with the Bellingcat genius on RT's behalf. Having tried the offices and then the blogger's home – which might as well have been his workplace – Kamer gave up, saying he really wished that "he would not hide from us."
Meanwhile, Higgins saw red, spitting out accusations that RT was "doorstepping the mothers" and "harassing family."
But while his excited Twitter followers cheered on the blogger for "doing something right" for making it on RT, he probably tired of the limelight. Or was he just thrilled with the "chase" and wanted a follow-up?
Here you go, Eliot! (also spelt Elliot, Elliott, Eliott and Elyot)...
You can share this story on social media: