Teargas at Kosovo parliament: 1 MP faints, 2 hospitalized after opposition stunt (VIDEO)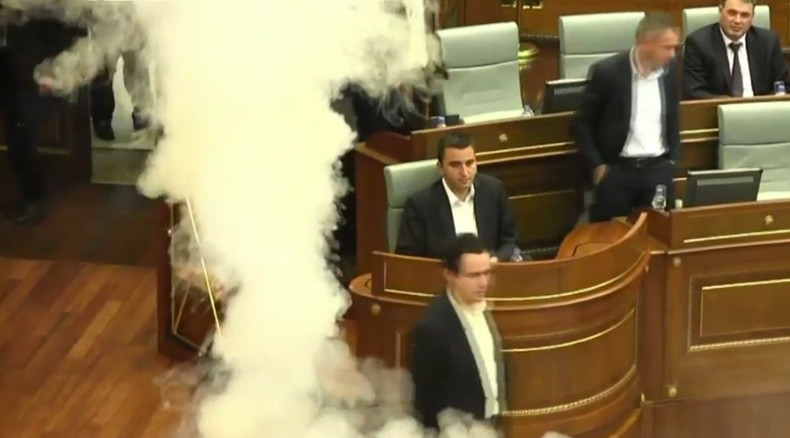 An opposition party resorted to quite an original way of disrupting the plenary meeting at the Kosovo Assembly – deploying teargas. The unorthodox parliamentary maneuver resulted in two people being hospitalized and one fainting.
The MPs in Pristina had just finished a reading of several drafts when the leader of the far-right 'Vetevendosje' ('Self-determination') party Aljbin Kurti suddenly threw a teargas grenade into the hall, Serbia's Novosti.rs reports.
The move was meant to be in protest of a recent EU-brokered deal between Belgrade and Pristina that established Serbian-majority municipalities in Kosovo, and another deal relating to borders between Kosovo and Montenegro, another former part of Yugoslavia.
An MP from the majority Flora Brovina party fell unconscious shortly after the teargas was released. At least four ambulances were dispatched to the scene. In the end, two female MPs also had to be hospitalized.
READ MORE: 'Quasi-state Kosovo West's only ally in Balkans, SE Europe'
The 120-seat Assembly has faced roadblocks since September owing to the activity of opposition MPs who control about a quarter of the seats. They have been physically obstructing the plenary sessions as well as trying to prevent majority MPs from speaking.
The situation has been ongoing since a decision on two agreements with Serbia that were signed in August in Brussels. The opposition also wants Prime Minister Isa Mustafa to resign.
Serbia and Kosovo have been locked in a fierce battle of wills since 2008, when Western-backed Kosovo declared independence from Belgrade, a move the Serbs reject.