Strongest tropical storm in history Mujigae wreaks havoc in China, at least 7 killed (VIDEO)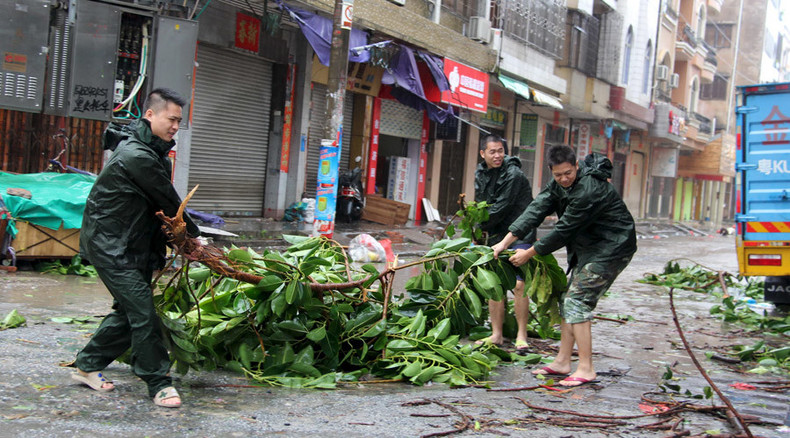 At least seven people have been killed after a typhoon with winds in excess of 180km/h battered the coast of south China. The storm also unleashed a rare tornado, which ravaged Guangdong province, bringing down buildings and knocking out power grids.
Typhoon Mujigae is reportedly the most powerful tropical storm in history according to the Guangdong Provincial Meteorological Bureau. It made landfall in the province of Guangdong and also unleashed tornados, which were recorded in Foshan and Guangzhou.
Seven people have been killed by the devastating typhoon, while 223 have been injured and 16 are reportedly missing, according to the South China Morning Post.
It brought torrential downpours and left thousands without power, as electricity grids were knocked out due to the ferocity of the storm. Trees were also snapped in half, and the sheer power of the storm lifted a building under construction from the ground.
The provincial capital Guangzhou has made plans to distribute water supplies and make emergency power available.
Nearly 200,000 people in southern China were forced to evacuate before Typhoon Mujigae (meaning 'rainbow' in Korean), made landfall near the city of Zhanjiang in Guangdong province just after 14:00 local time on Sunday, according to the National Meteorological Center.
The typhoon coincided with a public holiday in China, which saw many tourist attractions close. A number of sightseers had to be evacuated from the 600 meter tall Canton Tower after power was lost.
The tropical storm has also caused travel chaos, with dozens of flights and costal high-speed trains canceled.
Lin Liangxun, a meteorologist at the Guangdong Provincial Meteorological Bureau, told the news portal Chinanews.com that the typhoon had developed very quickly.
"It had taken only 57 hours for the tropical storm – with average wind speeds of 63to 87km/h – to turn into a powerful typhoon, with winds speeds of 150 to184km/h hitting Guangdong," he said.
You can share this story on social media: