'Patients were burning in their beds': Witnesses recall horrific Kunduz hospital airstrike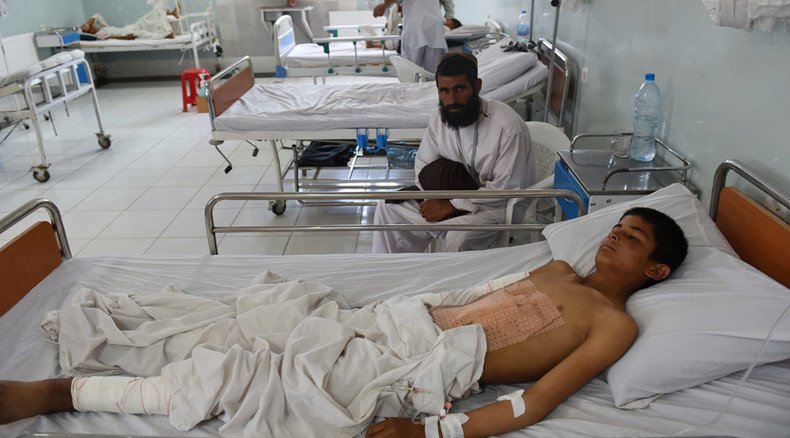 Seeing their colleagues and patients die was a horrifying shock, according to survivors of the deadly air raid on a hospital in Afghanistan. The tragedy, medical staff said, simply cannot be dismissed as "collateral damage" from a botched airstrike.
Recalling the tense minutes of continuous airstrikes which hit the Medecins Sans Frontieres (MSF) hospital in Kunduz, NGO staff said that the destruction of the hospital is nothing short of a "grave violation of international humanitarian law."
Follow LIVE UPDATES on suspected US bombing of hospital in Kunduz
The aerial bombing raids took place between 2:08am and 3:15am local time and were carried out at approximately 15 minute intervals, with the main hospital building being "repeatedly hit very precisely" during each raid, MSF said. The tragedy happened despite the fact that MSF had provided the US-led command with the GPS coordinates of the hospital to make sure that the hospital would not be hit.
A survivor of the horrific bombardment, MSF nurse Lajos Zoltan Jecs, who had been inside the facility during the attack, described the airstrikes as "absolutely terrifying."
"At first there was confusion and dust settling" he said, as cited by the MSF website. "As we were trying to work out what was happening, there was more bombing."
"The bombs hit and then we heard the plane circle round," recalled Heman Nagarathnam, MSF's head of programs in northern Afghanistan. "There was a pause, and then more bombs hit. This happened again and again."
Zoltan remembers seeing one of the emergency room nurses sustain massive trauma to his arm.
"He was covered in blood, with wounds all over his body. At that point my brain just couldn't understand what was happening. For a second I was just stood still, shocked," Zoltan said.
When the bombing stopped, some of the survivors left their shelters looking for those who could possibly have remained alive. Others, in a panic, tried to escape to safety, as the main hospital building was engulfed in flames.
"We tried to take a look into one of the burning buildings. I cannot describe what was inside. There are no words for how terrible it was," Zoltan said.
"In the intensive care unit six patients were burning in their beds," he added.
"Those people that could, had moved quickly to the building's two bunkers to seek safety. But patients who were unable to escape burned to death as they lay in their beds," Nagarathnam remembers.
One patient was left in the operating room on the table "dead, in the middle of the destruction," the nurse recalled.
READ MORE: 'Inexcusable, possibly even criminal': UN rights chief says Kunduz bombing may be war crime — RT News
Urgent surgery was carried out on one of the doctors on the office table but he did not survive. Zoltan remembers that there were "too many that we couldn't help."
Eltaf Najafizada, a freelance journalist for RT, found out about the death of his friend Aminullah Salarzai on social media. He had worked at the hospital as a doctor.
"It's a really sad moment concerning the death of my friend. He was in his 20's and was engaged. He worked as a physician at the Doctors Without Borders hospital. He was loved by all those around him. I really miss him."
The charity has confirmed 19 deaths, 12 of whom were staff. Four were adult patients, along with three children. A further 37 were left wounded. At the time of the bombing, 105 patients, and more than 80 MSF international and national staff were in the hospital.
LISTEN MORE:
READ MORE: 12 MSF staff, 7 patients killed in Kunduz attack, US admits airstrike 'in vicinity' of hospital
You can share this story on social media: