Russian Air Force destroys ISIS command center, training camp (VIDEO)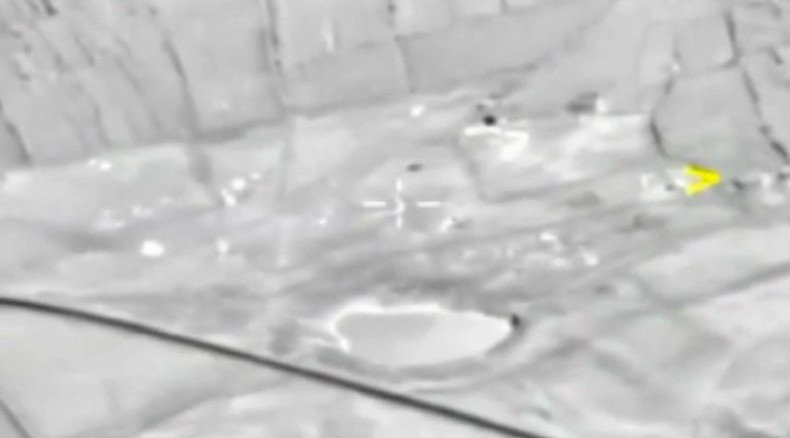 On Thursday, Russian warplanes stationed in Syria attacked a terrorist training camp and a command center, taking it out with a precision strike launched form an altitude of over 5,000 meters, the Russian Defense Ministry reported.
READ MORE: RT EXCLUSIVE: First look at Russian airbase in Latakia, centerpiece of anti-ISIS operations (VIDEO)
The airstrike was one of a dozen conducted by Russia in Syria on Thursday during 18 sorties, Lieutenant General Igor Konashenkov, the ministry spokesman, told journalists. Advanced Sukhoi Su-25 and Su-34s were used for strikes.
"The targeting systems of those planes allows for hitting ground targets with absolute precision, which was proven yesterday during combat missions targeting ISIS infrastructure," he said. "We can use this type of aircraft to deliver strikes anywhere in Syria."
Overnight, the Russian Air Force conducted 10 sorties and hit seven targets in Syria, Konashenkov said. Over the 24 hours the planes bombed a field camp in Aleppo province, a logistics center in Idlib province and a command point at a fortified facility in Hama province.
The general reiterated calls to take with a grain of salt reports of alleged Russian strikes on residential areas and targets not belonging to terrorist groups coming from some sources in Syria.
READ MORE: Insult to our intelligence: New information war against Russia
"Those sensationalized fakes are complete nonsense and have no factual basis and do not merit any discussions," he said. "They were prepared even before the operation started."
Russia started airstrikes on terrorist targets in Syria on Wednesday at the request of President Bashar Assad's government. The goal is to provide air support for Syrian troops fighting Islamic State.
You can share this story on social media: