Russia will succeed where West probably didn't want to – Assad's aide to RT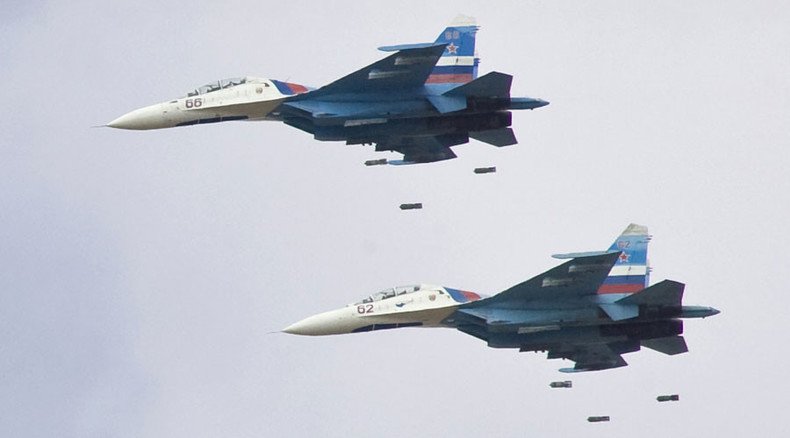 A Syrian presidential aide has praised Russian air support in the fight against terrorists, slamming the West's "ineffective" airstrikes. Media adviser Bouthaina Shaaban told RT she believes Russian intervention will help stabilize the situation in Syria.
FOLLOW RT'S LIVE UPDATES ON SYRIA ANTI-TERROR OP
Speaking on behalf of her country, President Assad's political and media adviser has said that Syria "hopes" that Russia's assistance will help Damascus "undermine terrorism" and "restore peace and security".
"But it's not only against Islamic State," Bouthaina Shaaban told RT. "I don't know why people … why do they forget about Jabhat al-Nusra, although the [UN] Security Council resolution spoke about or considered both Al Nusra and IS a terrorist organization."
"Besides these, there are tens of terrorist organizations in Syria. There are thousands of mercenaries and terrorists coming from all over the world."
On the first day of Russia-led airstrikes, Russian jets struck eight Islamic State (IS, formerly ISIS/ISIL) targets in Syria, while managing to avoid civilian infrastructure, the country's defense ministry said.
Shortly after Russia announced its operation in Syrian skies, and even before the first bombs fell, reports started to emerge accusing Russia of targeting opposition and Western-backed "moderate" rebel groups in Homs province instead of terrorists. NATO declared that it was "concerned" by these unsubstantiated reports, but Shaaban told RT that the allegations did not sound very credible.
"What I know is – the way Russia did things – that it did it both in full cooperation with the Syrian government; in consultation with the entire world – Putin was asking any country in the world to join in fighting terrorism – and, therefore, I think the style of fighting terrorism is very convincing by Russians, while the alliance that was made by the US and the West did not really either follow the rules of international legitimacy or coordinate with the Syrian government, and didn't really mean to fight terrorism," Shaaban said, adding that the US-led operation had proven to be ineffective.
Citing Iraq and Libya as examples, Shaaban has accused the US and its allies of looking "to destroy our countries in order to destroy our civilization, in order to destroy our people", instead of pursuing peace in Syria.
"The problem right from the beginning wasn't Assad; the target wasn't Assad. Just as Libya is destroyed now and they were talking about Gaddafi, and Iraq is destroyed and they were talking about Saddam Hussein," President Assad's adviser said. "One thing that is true is that all those carrying arms against the Syrian people, against Syrian institutions – are terrorists. And the Syrian army has been fighting them for the last five years, while the West is looking at our country being destroyed – at our hospitals, at our schools, at our archaeological heritage being absolutely destroyed."
Russia, on the contrary, Shaaban said is "committed to international legitimacy and to respect of country's sovereignty."
"That's why I feel that the Russians are going to succeed ... [where] the West didn't or didn't want to succeed, probably. I'm not sure," she said.
President Assad's aide has called on the US and the international community to "wake up and see what's happening on the ground."
"It's very easy to sit in New York and talk about concept, but it's very different – the truth in Syria," she said. "And the reality is very different from what the Americans and John Kerry is saying."
LISTEN MORE:
You can share this story on social media: