Russian military forces start airstrikes in Syria - Ministry of Defense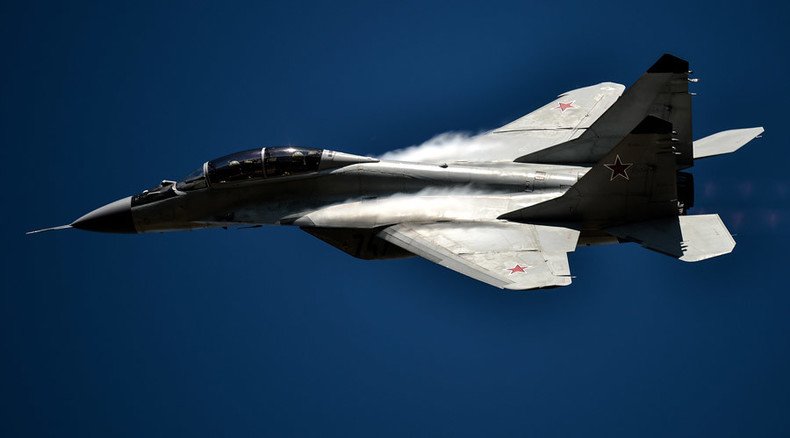 The Russian Air Force has begun carrying out airstrikes against Islamic State targets in Syria, the country's Defense Ministry said.
"In accordance with the decision of the Supreme Commander of the Russian Armed Forces, Vladimir Putin, warplanes of the Russian Air Space Forces today [Wednesday] have started an aerial operation, involving pinpoint strikes on ground targets of Islamic State [IS, formerly ISIS/ISIL] terrorists in Syria," spokesperson for the Russian Defense Ministry, Igor Konashenkov, said.
The Russia airstrikes are targeting military equipment, communication centers, vehicles, arms and fuel depots, belonging to IS terrorists, Konashenkov added.
READ MORE: Preemptive strike is how you fight terrorism – Putin on Syrian engagement
Russia's Rossiya 24 channel said that the first airstrikes were carried out by two Sukhoi Su-24 attack aircrafts "213km north of [the Syrian capital] Damascus" near the city of Hama.
Meanwhile, Syrian state television has named at least seven areas targeted by Russian air strikes. They include areas around the cities of Homs and Hama, which are separated from each other by 44 kilometers.
Earlier, a US official told Reuters that Moscow gave Washington one-hour advanced notice of its operations. The bombing is taking place in western Syria, near the city Homs, the official added.
A Pentagon official also told Russia's RIA Novosti that Russia urged the US to clear the skies for the operation.
US State Department spokesman John Kirby said that Russia indeed requested that American aircraft avoid Syrian airspace during the Russian air missions, but the US military will not comply.
"The US-led coalition will continue to fly missions over Iraq and Syria as planned and in support of our international mission to degrade and destroy ISIL (Islamic State)," Kirby said.
READ MORE: Russia, Iran, Iraq & Syria setting up 'joint information center' to coordinate anti-ISIS operations
Following the reports, Vladimir Putin said all Moscow's foreign partners have been informed about Russian plans in Syria.
During his meeting with the government, the president stressed that Russia's participation in the anti-terrorist operation in Syria is based on international law and is being conducted "in accordance with an official request from the president of the Syrian Arab Republic [Bashar Assad]."
On Wednesday morning, the upper chamber of the Russian parliament unanimously gave formal consent to President Putin to use the country's military in Syria to tackle Islamic State and other terror groups.
The Russian air campaign in Syria is commencing just a few days after Putin's address at the UN, in which he called for an international anti-terrorist effort in the country.
The Russian president also met with US counterpart Barack Obama on the sidelines of the 70th UN General Assembly, with the two leaders agreeing that Moscow and Washington have common interest in Syria.
LISTEN MORE:
You can share this story on social media: