Razor revolution: Skarp 'laser blade' Kickstarter campaign bags over $1.7mn in 7 days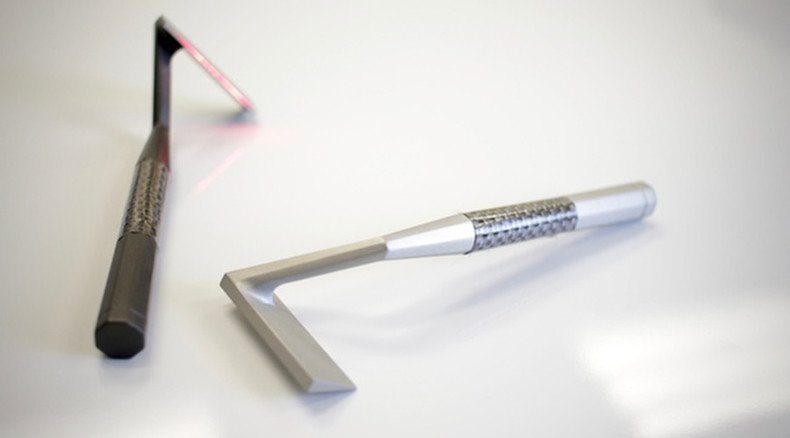 The new Skarp Razor could be the future of shaving, according to its creators. The Kickstarter campaign promoting the razor has garnered over $1.6 million – 10 times the original goal – in just a week since the start.
The hi-tech razor is powered by a small laser, cutting through hair without burning them, the inventors say.
As a result, they promise the potentially groundbreaking device will leave no scratches, razor burn, itch, or irritation.
READ MORE: Knot anymore! Futuristic 'Batband' headphones play music through the skull
Plus, they say the shave is eco-friendly: two billion razors are reportedly discarded each year in the US only, and the Skarp razor's cartridge won't need replacing.
Also, the blade will need little or no water usage, but it will be possible to use it in the shower.
The razor's prototype was made of 6061 aluminium, and 'Skarp' means 'sharp' in Swedish. The laser will function for 50,000 hours, with one AAA battery sufficient to ensure its work for about a month.
READ MORE: Tiny $9 computer CHIP rocks Kickstarter, promising tons of free apps
One of the main creators of the razor, Morgan Gustavsson, invented IPL (Intense Pulsed Light) in 1989, and the method is still used today. He initially had the idea of the Skarp razor back in 2001, but powerful enough laser technology wasn't on offer at the time.
In 2009, Gustavsson developed a laser that could cut any type and color of hair, not only dark ones.
Some 8,200 people have already bought the blade as a perk for contributing to the Kickstarter campaign, with over 9,500 people having backed the idea.
You can share this story on social media: