'Can you hear me now?' Edward Snowden joins Twitter, follows only NSA
Published time: 29 Sep, 2015 16:42
Edited time: 30 Sep, 2015 21:06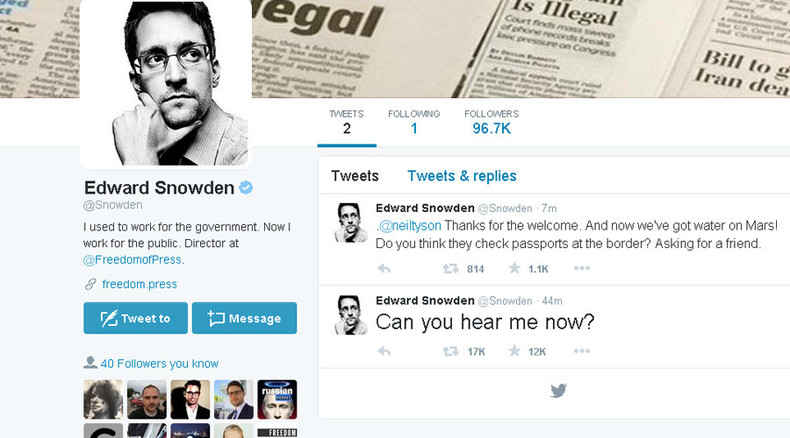 NSA leaker Edward Snowden has joined Twitter with his first message putting forward a simple question: 'Can you hear me now?'
The whistleblower acquired over 160,000 followers in less than an hour after he published his very first tweet, which referenced a snarky take on an old Verizon Wireless advertising campaign.
As the news of the latest 'big-name' Twitter handle goes viral, Snowden's follower count skyrockets by thousands every time the page is refreshed.
However, the reclusive privacy advocate has only followed one other handle on Twitter. Who, you might ask? The NSA, of course.
A surprising celebrity went all fan-boy geek out when he welcomed Snowden onto Twitter.
Eminent astrophysicist and all-around mega-brainiac Neil deGrasse Tyson chatted with the Moscow-based whistleblower, calling him a "patriot" and a "Geek."
And Twitter exploded like a supernova.
LISTEN MORE: