Mediterranean drills: Russian flagship leaves Crimea to participate in naval exercise (VIDEO)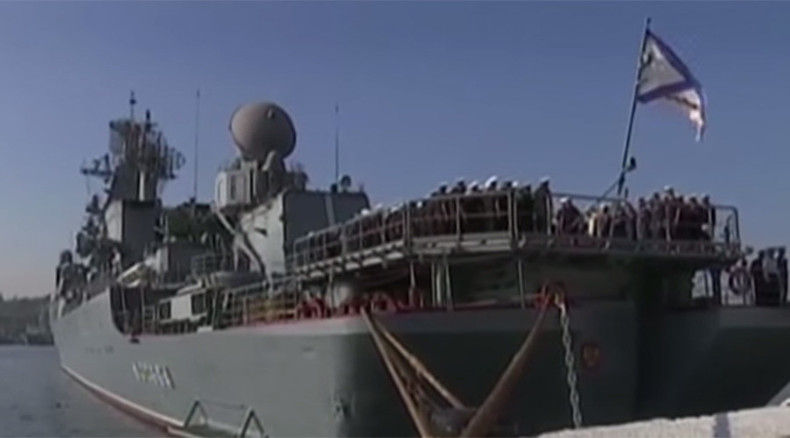 The flagship of the Russian navy, the guided missile cruiser Moskva, has left its base in Sevastopol, Crimea – the home port of Russia's Black Sea Fleet – to participate in naval drills in the east Mediterranean.
The ship passed through the Bosporus and Dardanelles Straits on Friday heading to the eastern part of the Mediterranean Sea where Russia is preparing to conduct major naval drills.
The naval exercises will take place in early October in the area between Cyprus and the Syrian port of Tartus, where Russia has its only naval facility in the Mediterranean.
Along with the Moskva, two other large Russian warships will participate in the maneuver – the landing ship Saratov and the destroyer Smetlivy – as well as support ships.
The drills will include "40 combat exercises, including rocket and artillery fire at sea and airborne targets," according to the press service of the Russian ministry of Defense, as cited by the RIA Novosti news agency.
"The crews of Russia's warships will be practicing anti-submarine, anti-ship and air defense procedures, search and rescue operations, as well as helping vessels in distress," the statement said.
The Ministry of Defense emphasized that the drills had been scheduled in 2014 and are not connected with the current developments in Syria. The ministry also says it is typical for Russian armed forces to intensify drills in September-October.
The West has become more and more preoccupied with Moscow's alleged increased activity in Syria. Recent reports claim that Russia is sending troops, warplanes and tanks to the war-torn Middle Eastern country.
LISTEN MORE:
Russian officials deny this, saying Moscow is simply continuing to supply Syria with weapons in accordance with already existing bilateral contracts. At the same time, Russia is boosting its counter-terror cooperation in the Middle East. Russian media reported on Saturday that Russia, Iran, Iraq and Syria had agreed to establish a joint information center to coordinate the campaign against Islamic State (IS, formerly ISIL/ISIS).
READ MORE: Russia, Iran, Iraq & Syria setting up 'joint information center' to coordinate anti-ISIS operations
You can share this story on social media: