China to become world's leading carbon emissions trader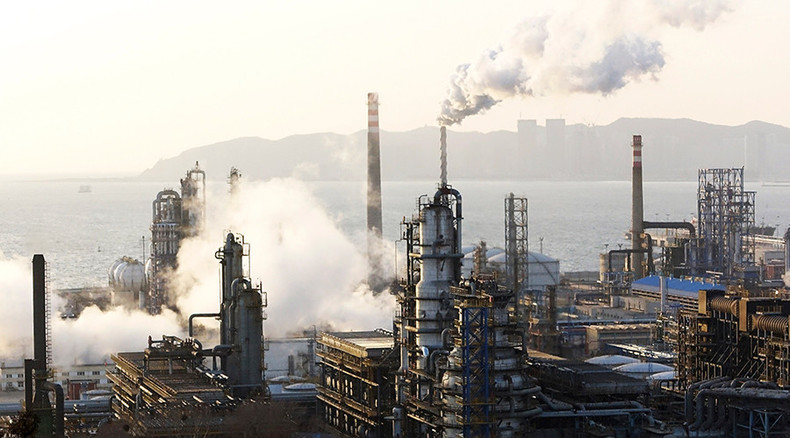 China and the US are ready to strike a global carbon emissions trade deal to form a market for industries producing greenhouse gas emissions. The deal was confirmed at a meeting between the Chinese and American presidents.
Beijing will launch the world's largest emissions trading program in 2017. The market will serve the interests of top CO2 greenhouse gas emitting industries, including fossil fuel burning electric power generation, cement and steel production.
A joint announcement from Chinese President Xi Jinping and US President Barack Obama says the effort would contribute much to slashing carbon emissions.
"China's 'green dispatch' system will prioritize power generation from renewable resources, and establish guidelines to accept electricity first from the most efficient and lowest-polluting fossil fuel generators," the statement says.
READ MORE: Global CO2 emissions stall for first time in 40 years as economy grows
China is the world's largest greenhouse gas emitting nation, estimated at 23 percent of the world's total in 2008. The US, with a population more than four times less than in China, is number two in the greatest polluter list, with 19 percent.
"Today, China — one of the largest providers of public financing for infrastructure worldwide — agreed to work towards strictly controlling public investment flowing into projects with high pollution and carbon emissions both domestically and internationally," the statement said.
The Obama administration finalized its Clean Power Plan Environmental Protection Agency (US EPA) this August.
According to the plan, the US intends to slash carbon emissions from electric power plants by 32 percent from 2005 levels by 2030.
"I issued our Clean Power Plan to reduce America's carbon emissions," President Obama told reporters at a news conference at the White House. "China will begin a market-based cap-and-trade system to limit emissions from some of its largest sectors."
President Obama has also said a climate agreement could be reached in Paris in December as the two nations have a joint "ambitious vision" on climate change.
In turn, President Xi Jinping announced his country is adopting a "green dispatch approach" in electric power supply, which is expected to enable China to make its electricity production 20 percent renewable by 2030.
READ MORE: China to slash coal consumption by 160mn tons in 5 years
In a pledge China submitted to the UN in June, Beijing expressed its commitment to reduce its greenhouse emissions by as much as 65 percent. This ambitious plan requires doubling China's wind power generating capacity and nearly quadrupling its solar energy production by 2020.
You can share this story on social media: