AFP journalists 'assaulted by IDF soldiers' in West Bank (VIDEO)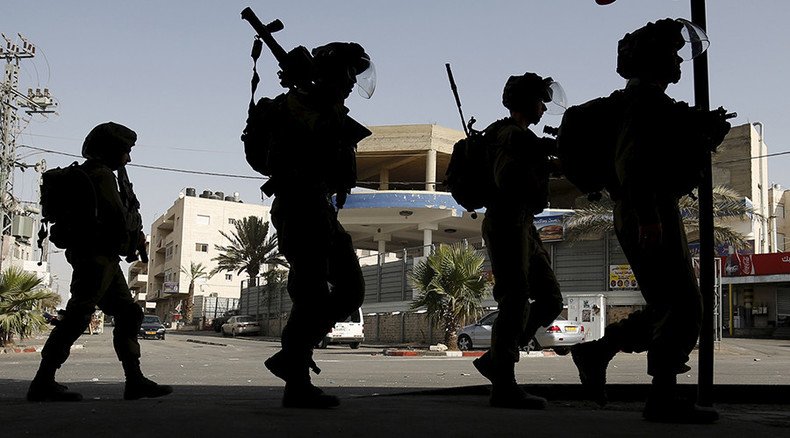 Two AFP journalists, covering clashes between Palestinians and IDF sparked by the death of a Palestinian killed by the army last week, were assaulted by Israeli soldiers who destroyed and seized their equipment in the West Bank. The incident was filmed and posted online.
Israeli soldiers reportedly pointed their weapons at the Italian video journalist Andrea Bernardi and his colleague, Palestinian photographer Abbas Momani. Both journalists were wearing body armor clearly marked "Press." According to AFP, Bernardi was thrown to the ground, jabbed in the side with a weapon, and held by a soldier until he showed his press card. The journalist suffered bruised ribs and an eye injury.
The soldiers reportedly smashed a video camera and a stills camera and took away another camera, and a mobile phone.

AFP immediately protested to the Israeli military, saying it intends to file an official complaint.

READ MORE: Israel officially permits use of live ammo in answer to 'civilian-threat' stone-throwers

Israeli Army spokesman Colonel Peter Lerner told the agency, "Disciplinary measures will be taken."

"The highest levels of command are aware of the incident," he added, specifying that this includes the head of Israeli forces in the West Bank.
In a similar incident on April 24, the same Palestinian AFP photographer who was manhandled on Friday and his Palestinian colleague had stones thrown at them by Israeli soldiers. That incident was also filmed, and the army announced disciplinary action would be taken against the soldiers involved.
Friday's clashes between Palestinians and troops at Beit Furik came after the funeral of Ahmed Khatatbeh, 26, who died of his wounds on Thursday after being shot last week by Israeli soldiers at the Beit Furik checkpoint near Nablus in the northern West Bank. The army said he and another man had thrown a petrol bomb at a vehicle on a road to the Jewish settlement of Itamar. Thousands of Palestinians marched in his funeral, the International Middle East Media Center reported.
LISTEN MORE:
You can share this story on social media: