Thousands of pro-independence protesters rally in Barcelona ahead of Catalan elections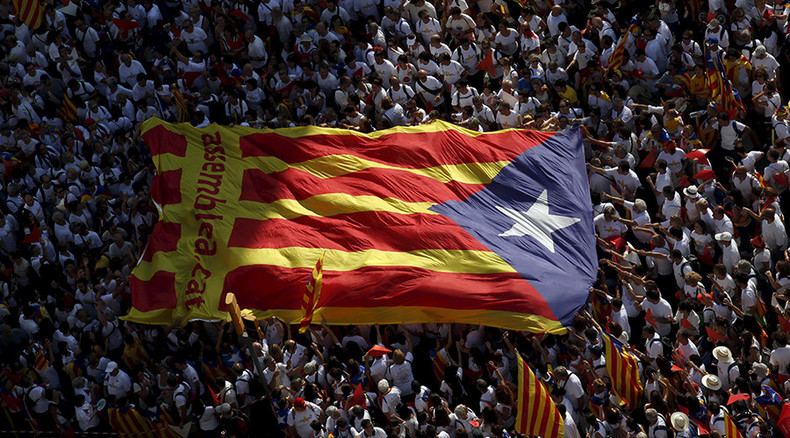 A massive pro-independence demonstration in Barcelona, Spain drew thousands of people on Friday just two days before parliamentary elections in Catalonia. The Catalan president has promised to break with Spain in "18 months to 2 years" in case of a win.
Huge crowds waving red-and-yellow flags with a white star on a blue triangular – esteladas – filled the streets of Barcelona to show their commitment to Catalan independence, pictures posted on social media showed.
As the mass rally was taking place in Catalonia, Spain's ruling conservative Popular Party (PP) issued a video in which its senior members, including Spanish Prime Minister Mariano Rajoy, called on Catalans to reject the move.
"United we will win," Rajoy said in Catalan.
Parliamentary elections will be held in Catalonia on Sunday. Supporters of Catalan independence regard the vote as a form of independence referendum. They are counting on a decisive victory for the "Junts pel Sí" ("Together for yes") coalition that advocates secession for the region.
"Clearly, if we get a majority of the votes on September 27, then that's the referendum done," Artur Mas, Catalonia's President said on Wednesday. He also promised to declare independence in 18 months to two years if the "Junts pel Sí" movement wins at the polls.
LISTEN MORE:
Mas also warned Madrid that Catalonia, which is Spain's richest region, producing about one fifth of its entire GDP, will not help Spain pay off its debts if it blocks the referendum on Catalan independence.
"If it does not make an agreement with Catalonia, how will Spain be able to pay back its debts, which will rise to 120 percent of its output, while it loses the most productive part of its economy?" he asked.
"Junts pel Sí" needs 68 of 135 seats in the Parliament to achieve a majority, but due to the Catalan election system, it can reach its goal with just 45 percent of the vote.
Madrid stands firmly against a referendum on Catalan independence, saying that it would be in violation of the Spanish constitution and is, therefore, illegal. Spain's Constitutional Court prohibited such a referendum last year. In response, Catalonia conducted a non-binding consultative vote on November 9, when more than 80 percent of voters said "Yes" to breaking with Spain.
However, an opinion poll conducted by the Centre d'Estudis d'Opinió (CEO) in July showed that only about 43 percent of Catalans would vote for secession if a legally binding referendum were to be held, the Local reported.
READ MORE: Catalan leader vows independence in 2 years should secessionists win snap vote
Many politicians and celebrities have called on Catalans to stay in Spain.
"As a matter of foreign policy, we are deeply committed to maintaining a relationship with a strong and unified Spain," US President Barack Obama said hosting King Felipe VI at the White House on September 16. EU leaders such as UK Prime Minister David Cameron and German Chancellor Angela Merkel also support the Spanish government, saying that Catalonia would be automatically severed from the EU if it succeeded.
The unity of Spain is also supported by Antonio Cañizares, archbishop of Valencia, Julio Iglesias, and famous opera singer Montserrat Caballé.
There are also celebrity figures supporting Catalan independence, however, the most famous of which is Bayern Munich coach PeP Guardiola, who earlier trained FC "Barcelona."
A huge pro-independence rally, called "Via Lliure a la Republica Catalana" ("Gateway to the Catalan Republic"), took place earlier this month on September 11, with at least 1.4 million people participating.
RT's Anastasia Churkina has spoken with the locals to gauge their views on what's happening in the region, and the underlying reasons.
Some have told RT that Catalonia could do better on its own.
"In Catalonia, we pay a lot, but we get back less. Things need to be more balanced," a local said.
Plus, the vote acts to attract attention to the region's situation.
"We ask for independence, and now they start to listen. This is why we're asking for independence," another Catalonian told RT.
However, others think the current state of affairs would do more harm than good.
"Everything is such a mess, it will be difficult to become independent," a local said, shaking his head.