Russian kid unearths 3,000yo King David era treasure in Jerusalem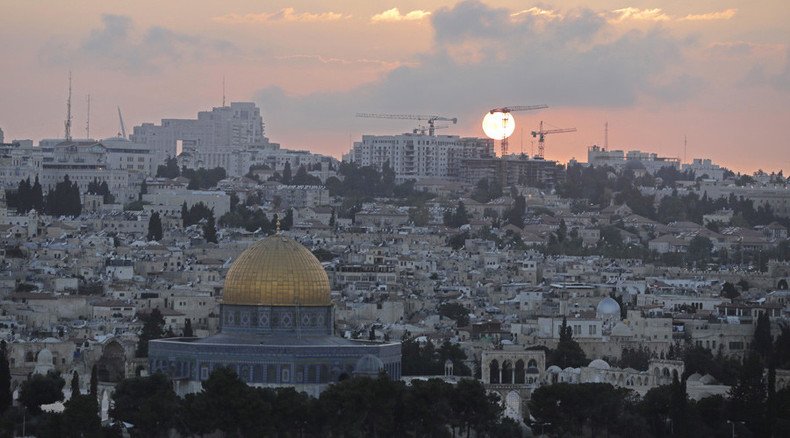 A 10-year-old Russian tourist has discovered a rare 3,000-year-old artifact relating to the periods of King David and Solomon that may shed light upon the mystery of the Temple Mount in Jerusalem.
The young boy, called Matvey, happened to come across a brown limestone seal that features two animals, one on top of the other "perhaps representing a predator and its prey," the Israeli media cited archaeologists as saying on Friday.
The Russian schoolboy volunteered to take part in the Temple Mount Sifting Project for just one day. It is dedicated to recovering archaeological artifacts from 300 truckloads of soil removed from the place of worship.
The seal was deciphered only recently and is claimed to be "the first of its kind to be found in Jerusalem," Dr. Gabriel Barkay, the co-founder and director of the project, said as cited by the Breaking Israel News.
READ MORE: 'Miracle': Ancient pre-Roman tomb unearthed in Pompeii, Italy, after 2,000yrs
The hallmark may have been used by a noble family for sealing documents, however, it's still a hypothesis, Barkay told the Times of Israel during a phone call. The find also has a hole probably made for wearing it on a string.
"What makes this discovery particularly significant is that it originates from up on the Temple Mount itself," Dr. Barkay mentioned.
"The dating of the seal corresponds to the historical period of the Jebusites and the conquest of Jerusalem by King David, as well as the construction of the Temple and the royal official compound by his son, King Solomon," he added.
The Temple Mount Sifting Project, launched in 2004 under the auspices of Bar-Ilan University and supported by the City of David Foundation, has attracted more than 170,000 tourists from around the world.
Ancient artifacts unearthed at this site provide significant information that could shed light upon the historical credibility of the Biblical texts.
READ MORE: 'Alien in Chelyabinsk': 2,000-yo skeleton with cone head dug up at Russian Stonehenge
"Since the Temple Mount has never been excavated, the ancient artifacts retrieved in the Sifting Project provide valuable and previously inaccessible information," said Zachi Dvira, co-founder and director of the project.
"In recent years, using newly developed statistical methodologies and technologies we have managed to overcome the challenge of having finds with no exact context since they were not recovered in a proper archaeological excavation. The Temple Mount Sifting Project has focused its efforts on the enormous tasks of processing and studying the finds and preparing them for scientific publication. Presently, more than half a million finds are still waiting to be processed and analyzed in our laboratory," said Dvira.
You can share this story on social media: