Rocks, fireworks, KKK outfit: Finland protesters attack bus with refugees (VIDEO)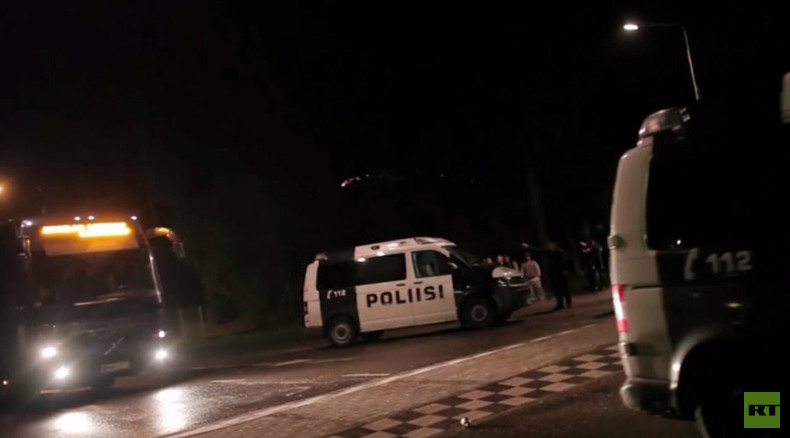 A bus which delivered refugees, including infants, to a new reception center in the southern Finnish city of Lahti has come under attack. Dozens of protesters gathered, throwing stones and fireworks at refugees and Red Cross volunteers.
The bus reportedly contained 49 people, including infants, the majority of whom were fleeing violence in Iraq. A group of refugees who were transported to a hastily-arranged accommodation at a former army barracks in Lahti's Hennala district.
There they were met by a group of 30-40 protesters, Finland's Yle television reported. One of the protesters was dressed in a Ku Klux Klan outfit, a symbol of the white supremacist American movement, with a Finnish flag in his hand.
Some protesters began hurling fireworks at the bus and shouting abuse.
The unrest reportedly erupted roughly half an hour before the buses with refugees began to arrive, with protesters first pelting rocks at the Red Cross volunteers.
No one was hurt in the incident. The police detained two protesters and said they were likely to face fines.
"The protesters were young people from Lahti... At this point we have no indication that they would be somehow organized," chief inspector Martti Hirvonen told the Finnish news agency STT.

Prime Minister Juha Sipila, who offered to take in refugees at his home earlier this month, has condemned the attack on Twitter, saying "threats and violence against asylum seekers and migrants are absolutely unacceptable."
"Finland's government condemns last night's racist protests against the asylum seekers who have come to the country. Violence and threatening behavior is always indefensible," a government statement said.

On Friday morning three more buses arrived on the scene. A total of 250 people are expected to arrive at the Hennala center, according to Yle.
In a similar incident in Kouvola, in south-eastern Finland, a 50-year-old man was arrested on Thursday after throwing a Molotov cocktail at an emergency housing facility for asylum seekers. The fire was extinguished and no one was injured.
READ MORE: Slovakia to challenge refugee quotas in court, Hungary takes aim at EU budget
About 500 refugees per day have recently been crossing the Finnish land border in Tornio, near the Arctic Circle, after a journey through Sweden, Reuters reported. So far this year over 13,000 refugees, most from Iraq, have arrived in Finland, compared to 3,600 last year, the news agency said.
LISTEN MORE:
The worst refugee crisis since WWII has put Europe's long-standing 'open door' policy under threat, as hundreds of thousands of desperate refuges and asylum seekers fleeing conflicts in the Middle East and North Africa poured into Europe. The pressure has forced a number of the EU nations, including Germany, Austria, Slovakia and the Netherlands, to re-impose temporary border controls.

Finland was the only EU state to abstain from this week's vote on refugee sharing among the bloc's members. It stressed it was opposed to a mandatory quota system though it accepted its 2 percent share of 120,000 asylum seekers in question.
You can share this story on social media: