Canadian mining company admits to 1mn-liter cyanide spill in Argentina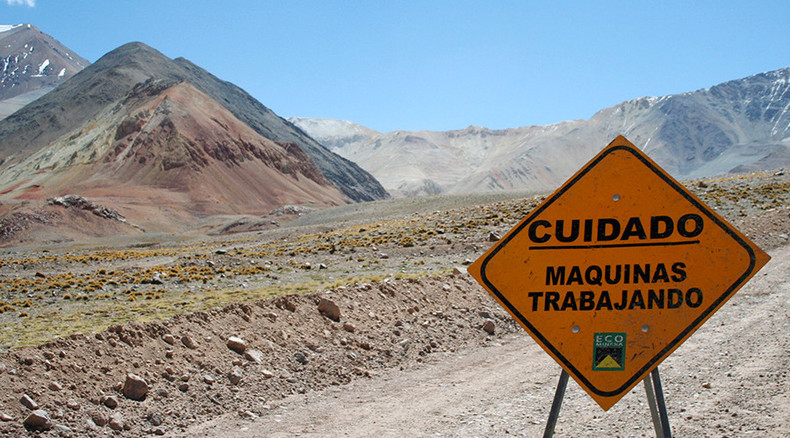 Over a million liters of a cyanide solution leaked from Barrick Gold's Veladero mine in Argentina's western San Juan province – nearly five times more than previously reported. Meanwhile, a judge has lifted a ban on pumping toxic substances at the site.
The Toronto-headquartered mining company initially said it had spilled just 224,000 liters of the toxic liquid into the Potrerillos River. By comparison, an Olympic-sized swimming pool holds 2.5 million liters.

The leak happened when a valve failed and a sliding gate was left open on September 12 at around 8pm local time. Because of the gate problem, the cyanide solution passed through all the emergency pools and into the river.

The solution is used to filtrate gold from processed rocks, which is a fairly common method employed for extracting gold.
On Thursday a federal judge reversed a ban prohibiting Barrick Gold Corp from pumping cyanide solution for the leaching process. The court said that the leak had not contaminated water in the surrounding area.

"The water did not contain cyanide or other contaminating metals, so I decided to lift the cautionary measure," local television channel TN quoted Judge Pablo Oritja as saying.
LISTEN MORE:
Barrick also continues to maintain that the spill had posed no health risks to locals. The company is still working out why the gate malfunctioned. At the same time, a court-ordered investigation concluded that the water was safe to drink in the surrounding towns.
Meanwhile, Greenpeace Argentina has accused San Juan of conspiring with Barrick Gold to "hide" the leak.
Parlamento Por el Agua environmental group also criticized the local government for what they said was an unacceptably slow response to the accident. The group maintains, it took authorities 48 hours to notify the population of the spill.
Federal Judge Oritja said that a special committee had been set up to examine further possible contamination of the region for 30 days.
The imposed ban did not impact the mine's production because the firm was able to use existing solution that had already been pumped into the leaching system.

The Veladero mine produced 722,000 ounces of gold last year alone and is likely to contribute about 10 percent to Barrick's total gold output for 2015, RBS Capital said.