Merkel admits Syrian conflict cannot be resolved without Bashar Assad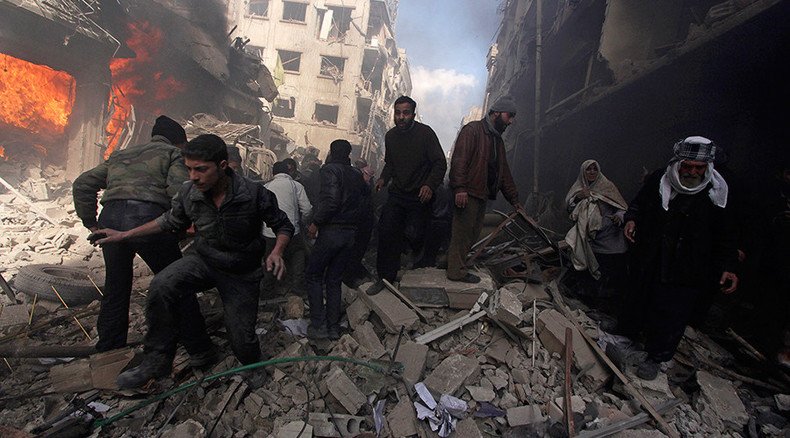 German Chancellor Angela Merkel says Syrian president Bashar Assad should play a role in any talks aimed at ending the Syrian civil war. Her statement marks a softening in the stance of Western leaders towards the Syria's current president.
"We have to speak with many actors, this includes Assad, but others as well," Angela Merkel said at a press-conference following the EU emergency summit on the migration crisis.
This constitutes a marked departure from previous positions of most Western powers, which had consistently insisted that the Syrian leader's resignation was an essential prerequisite for the conflict in the Arab country to be resolved.
"Not only with the United States of America, Russia, but with important regional partners, Iran, and Sunni countries such as Saudi Arabia," she added.
Earlier this month, the German Chancellor also stressed the need for Russia's involvement in reconciling the Syrian crisis, German Deutsche Welle reports.
On August 31, she welcomed Iran's potential participation in negotiations aimed at putting an end to the Syrian conflict.
"I think Iran has a lot of influence over what happens in Syria. And everyone is welcome to participate constructively in the negotiations," she said at a news conference in Berlin at that time.
From demanding Assad go…
The US has repeatedly blamed Bashar Assad for the outbreak of violence in Syria as well as for its civil war, claiming that it was he who facilitated the rise of Islamic State (IS, formerly ISIS/ISIL).
"He [Assad] is the reason ISIL, and other terrorist groups, have been allowed to fester and grow and sustain themselves inside Syria. Assad regime has allowed groups like ISIL to fester and grow inside the country," State Department spokesman John Kirby said at a briefing on September 16.
British authorities have also continuously accused Assad of various crimes and demanded his departure.
"We have to be frank, particularly the eastern Mediterranean crisis is because Assad has butchered his own people and because ISIL have in their own way butchered others, and millions have fled Syria," British Prime Minister David Cameron said on September 9, adding that "Assad has to go."
Cameron even equated Assad with Islamic State when commenting on the suffering of the refugees.
"I would say the people responsible for these terrible scenes we see, the people most responsible, are President Assad in Syria and the butchers of ISIL and the criminal gangs that are running this terrible trade in people. And we have to be as tough on them at the same time," he said.
Germany has also long supported its allies in their demands that Assad step down. In 2011, Merkel issued a joint statement with Nicolas Sarkozy, who was president of France at the time, and British PM David Cameron which asserted that the Syrian leader should "face the reality of the complete rejection of his regime by the Syrian people and to step aside in the best interests of Syria and the unity of its people."
LISTEN MORE:
…to stepping away from the hard line
However, now, more and more western politicians have demonstrated that they are ready to see Assad involved in the Syrian peace process to various degrees. Many of them also claim they welcome other countries such as Russia and Iran at the negotiating table.
Earlier this month, British Foreign Secretary Philip Hammond told a UK parliamentary committee that the UK could accept Assad playing a role in the transition process in Syria.
In late August, during his visit to Iran, he admitted that an effective resolution of the Syrian conflict would need to involve negotiations with Assad, as well as the participation of "the two most important and influential players in Syria – Iran and Russia."
Austria's Foreign Minister, Sebastian Kurz, claimed that Western countries should engage Assad in the joint fight against Islamic State militants. He made the comments on a visit to Iran in early September as part of a delegation that included the Austrian president, Heinz Fischer.
"One should not forget the crimes that Assad has committed, but also not forget the pragmatic view of the fact that in this fight we are on the same side," Sebastian Kurz said during the visit.
On Saturday, US Secretary of State John Kerry said that reaching a settlement of the Syrian crisis would not necessarily require Assad's resignation, although he stressed that Assad still had to step down sooner or later, as reported by AFP.
However, not all Western leaders are ready to step away from the hard line. At a press-conference after the EU summit on Thursday, French President Francois Hollande claimed Assad had no place in Syria's future.
"There can be no transition without his departure," he said as quoted by AFP. "The future of Syria will not pass through Bashar Assad."
Yet, earlier, French Foreign Minister Laurent Fabius claimed that Assad's departure was not a necessary condition for commencing a political dialog about the Syrian crisis.
"If we require, even before negotiations start, that Assad step down, we won't get far," Fabius told Le Figaro on Tuesday.
LISTEN MORE:
You can share this story on social media: