Young jihadi bursts in tears moments before Syria suicide attack in 'promo' clip (VIDEO)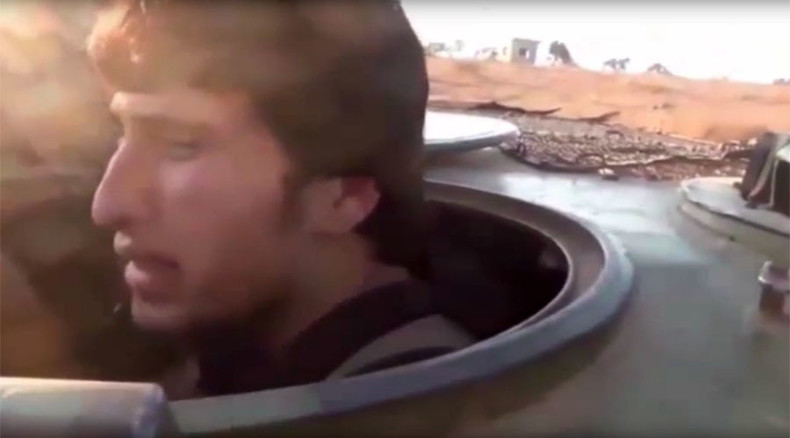 A video of a young suicide bomber weeping hysterically moments before carrying out an attack in a Syrian village has emerged online in what was supposedly a propaganda clip. The man in the harrowing footage allegedly belonged to Al-Qaeda-linked rebels.
The young man in the video has been referred to as Jafar al-Tayyar, a Uzbeki jihadi who appears to be in his 20s. He is shown minutes before driving a vehicle full of explosives into the defenses of the town of Fua in Idlib Province.
The distressing footage shows Tayyar in tears, hugging other militants who apparently gathered to encourage the young man: they smile and pat Tayyar on his back.
"Jafar, my brother, don't be afraid. When you are scared, remember Allah," an Uzbek-speaking militant is heard saying.
"I'm just scared I won't succeed," Tayyar responded.
Another militant is seen raising his right index finger in the air, a gesture used by jihads meaning "Allah is the highest."
Tayyar is seen sitting inside an armored vehicle and then disappears in a mushroom cloud as he blows himself up.
The video's narrator reportedly explains that Tayyar was the "first volunteer mujahid [jihad fighter] of Mawarannahr," referring to modern-day Uzbekistan, Tajikistan, southern Kyrgyzstan and southwest Kazakhstan, Radio Liberty reported.
While the exact purpose of the video, posted by Tayyar's Imam Bukhari Jamaat, is not clear, some media reports suggested that it was posted to glorify jihadi militants as martyrs. However, some noted that Tayyar appeared to be reluctant to carry out his final mission.
The attack reportedly took place on September 18. It remains unclear whether anyone was wounded or killed in the attack.
Separate footage was recorded by the Al Qaeda-affiliated Nusra Front militant group, with which Jamaat is reportedly aligned, using a small drone.
According to The Times, more than 200 rockets were fired during last Friday's attack and another six separate suicide bomb attacks were launched against the defenses of Fua.