EU refugee crisis: Traffic between Croatia and Serbia halted after reciprocal bans imposed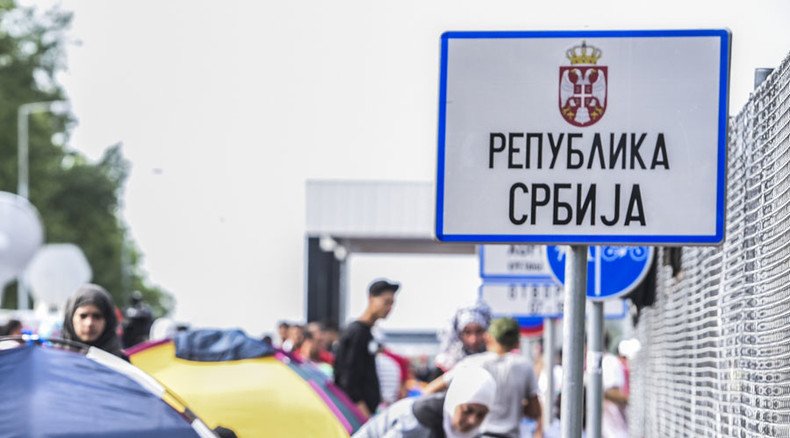 The Croatian authorities have banned Serbian citizens and cars from the country entering its territory. The move comes after Serbia banned all Croatian goods and cargo vehicles from entering its borders.
"Serbian passport holders and cars registered in Serbia cannot enter Croatia until further notice," a police officer told Reuters.
READ MORE: 'Human smuggling'? Hungary stops train with 1,000 asylum seekers escorted by 40 Croatian police
Earlier on Thursday, Serbian Interior Minister Nebojsa Stefanovic said that Serbian police were instructed, to "not allow the entry through any border crossing any cargo vehicle registered in Croatia, nor any truck carrying goods made in Croatia."
However, Croatia's Prime Minister, Zoran Milanovic, said that he didn't believe Serbia would go as far as introducing retaliatory measures because that would constitute an act "against the European Union."
"Croatia is an EU member. Serbia cannot, even if it wants, impose measures against Croatia as it has an agreement with the EU. Whatever Serbia does, or thinks to do, would be against the EU and I'm sure Serbia will not do that," Milanovic said.

Serbia, which is currently on the list of candidates to join the EU, has warned Croatia that it was willing to look at political, legal and economic measures to stop the border blockade.
Serbian Prime Minister Aleksandar Vucic had stated that Croatia had until midnight on Thursday, September 24 to work things out. Otherwise, he said, Serbia would leave the deployed measures in place to "protect its economic interests."
Last week, Croatia closed most of its road border crossings with Serbia, leaving only one open on the main road linking Belgrade and Zagreb at Bajakovo.
READ MORE: Hungary passes law allowing govt to use army in asylum seeker crisis
The move was said to be in response to over 13,000 refugees entering the country after Hungary closed its borders on Wednesday to stop the asylum seekers from transiting through the country en route to Western Europe.

"We cannot register and accommodate these people any longer," Milanovic said on Friday. "They will get food, water and medical help, and then they can move on. The European Union must know that Croatia will not become a migrant 'hotspot.' We have hearts, but we also have heads."
READ MORE: 'Migrant crisis: Result of EU blindly joining US strategy' – ex Yugoslav FM
Some of the refugees appeared to be stuck on the border between Croatia and Hungary.
Croatia was involved in a "human smuggling" incident last week, when an unannounced train carrying over 1,000 asylum seekers, accompanied by around 40 Croatian police officers, was intercepted by Hungarian authorities. The incident prompted accusations that Croatia had violated international laws.
READ MORE: 'Human smuggling'? Hungary stops train with 1,000 asylum seekers escorted by 40 Croatian police
Over 44,000 migrants have arrived in Croatia since September 16, with over 8,500 people arriving in just the last 24 hours.
One of the latest reports released by the European statistics agency (Eurostat) said that the number of people seeking refuge in the EU in the second quarter of 2015 was 85 percent higher than during the same period in 2014.
From April through June of this year, 213,200 people applied for asylum, with Germany receiving the highest number of applications – more than a third. Hungary had 15 percent, Austria 8 percent, followed by Italy, France and Sweden with 7 percent each.
LISTEN MORE:
You can share this story on social media: