Islamist recruiters target asylum seekers, German intelligence says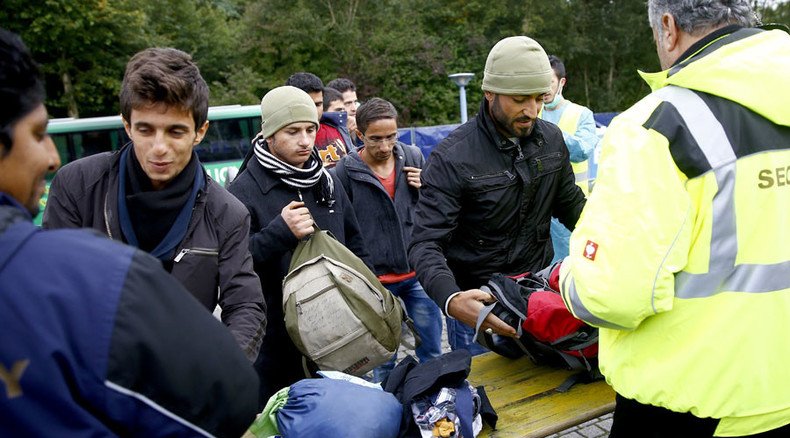 Germany's domestic security agency has warned that the number of Islamists in the country has dramatically increased recently, adding that the extremists were actively seeking to lure refugees and migrants to their ranks.
The Federal Office for the Protection of the Constitution (BfV), Germany's security watchdog, estimates that the number of Islamist radicals in the country had risen from approximately 7,500 in June up to around 7,900 in September, while there had only been some 3,800 in 2011.
The security agency also expressed concern that many were attempting to exploit the refugee crisis by recruiting incoming asylum-seekers, actively encouraging them to join terrorist groups or go to Syria to fight for the militants.
With Germany expecting about one million refugees and migrants by the end of the year, such activities could significantly increase the number of radicals in the country and pose a considerable threat to national security, the BfV warns.
"We are very concerned that Islamists in Germany are trying, under the cover of humanitarian assistance, to exploit the situation of the refugees for their own ends and to proselytize and recruit among asylum-seekers," said Hans-Georg Maassen, the head of the BfV, in a recent interview to the German Der Rheinischer Post.
"We are keeping a particularly close eye on unaccompanied minors among the refugees, who could be easy targets for Islamists" he said, adding that the regions of North Rhine-Westphalia, Berlin, and Hessen were extremist strongholds.
Islamists have already tried make contact with refugees in the German region of North Rhine-Westphalia (NRW) several times, although "no large-scale strategy" has been discovered, Der Spiegel reported, citing an official from the NRW interior ministry.
"There is a growing number of warnings that Islamists are purposefully recruiting people in refugee centers. They exploit the atmosphere of hatred, intolerance and violence," Hessian justice minister Eva Kühne-Hörmann said, as quoted by Der Spiegel. She also urged German federal justice minister Heiko Maas to take stricter measures against the recruiting efforts of terrorists and criminals.
At the same time, the head of the BfV dismissed allegations that Islamic State has sent its militants to Europe through the influx of refugees. He said that it was unlikely that the militants would choose this route, as they would have to risk their lives crossing the Mediterranean and could easily be caught smuggling weapons.
READ MORE: ISIS fears: Hungary TV report suggests 'militants' posing as refugees cross into Europe

Hans-Georg Maassen said that German security services had followed up on several leads warning of terrorists trying to enter the country disguised as refugees, but "neither [he] nor the Intelligence chief, Schindler, had got conclusive evidence that there were militants among the refugees."
On the other hand, he emphasized that the BfV was closely monitoring Muslim radicals who had left Germany to join militants in Syria and then returned.
More than 740 Germans joined the jihadists in all. Most were younger than 30 years old, and around 20 percent were women, Der Spiegel reports, citing the BfV sources. About one third of those who went to join the terrorists have returned to Germany, while about 120 were killed in Syria.
Hunt for terrorist recruiters
German police have conducted several raids in Berlin looking for alleged Islamic State recruiters. Raids that started early Tuesday morning were carried out in a community particularly linked to the Ibrahim Alkhalil Mosque in Berlin's central Tempelhof district, as well as in seven other residential apartment buildings in the city.
The raids targeted a 51-year-old Moroccan who was allegedly recruiting for the jihadists and a 19-year-old Macedonian that is also possibly involved in terrorist recruitment, among others. No arrests have been made so far.
"We are looking for evidence to see whether these allegations are true," a police spokesman said, as quoted by AFP.
At the same time, police said that there were "no indications that anything [terrorist attacks] was being planned in Germany."
Germany was named as a potential target of Islamic State terrorist attacks in a video posted online in August by two German-speaking jihadists claiming to belong to the terrorist group. They threatened revenge on the country and Chancellor Angela Merkel.
LISTEN MORE:
You can share this story on social media: