EU approves refugee quota plan despite Eastern European opposition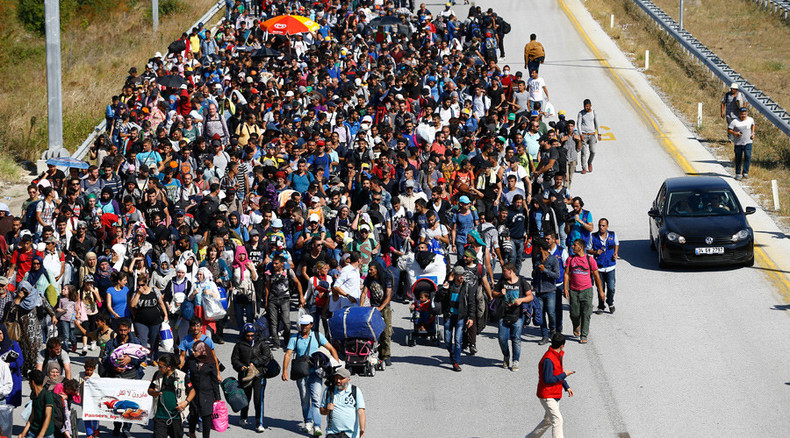 EU interior ministers have approved a relocation plan on distributing 120,000 refugees among member states. The Czech Republic, Romania, Slovakia, and Hungary, voted against it, while Finland abstained.
Under the plan, refugees will be relocated from Italy, Greece, and Hungary to other countries in the EU.
Prague's decision did not come as a surprise, as Prime Minister Bohuslav Sobotka said hours before the meeting began that the country would reject any quota system.
My, Slováci, Rumuni, Maďaři proti a Finsko se zdrželo. Usnesení bylo přijato.

— Milan Chovanec (@Milan_Chovanec) September 22, 2015
He added that any attempt to impose such a scheme could end in "big ridicule for the European Commision" and the governments supporting the plan.
Czech Interior Minister Milan Chovanec expressed his distaste for the plan after the vote, tweeting:"We will soon realise that the emperor has no clothes. Common sense lost today."
Velmi brzy zjistíme, že císař je nahý. Dnes prohrál zdravý rozum! :-(

— Milan Chovanec (@Milan_Chovanec) September 22, 2015
Slovakian Prime Minister Robert Fico said those who decided to push through quotas nonsensically caused a deep rift over a very sensitive issue.
However, under European law, three of the countries that voted against the proposal — the Czech Republic, Romania and Slovakia — would be required to accept migrants against their will, an EU diplomat told The New York Times on condition of anonymity after the vote.
Finland was the only country of the EU's 28 members to abstain from the vote. Poland, which had previously opposed the proposal, voted in favor of it.
The plan has been criticized by the UN refugee agency (UNHCR), which says it is insufficient.
#UNHCR warns that relocation program alone, at this stage in the European refugee crisis, will not be enough to stabilize the situation.

— UNHCRNews (@RefugeesMedia) September 22, 2015
"A relocation programme alone, at this stage in the crisis, will not be enough to stabilise the situation," UNHCR spokeswoman Melissa Fleming said, urging the EU to set up reception facilities able to handle tens of thousands of refugees at a time.
The UN estimates that around 480,000 migrants have arrived in Europe this year alone, and are now reaching European shores at a rate of nearly 6,000 a day.
LISTEN MORE:
Earlier in the day, German rail operator Deutsche Bahn suspended services to Austria and Hungary until October 4th, citing border controls introduced to manage the record surge of refugees.
The refugee crisis – the worst since World War II – has triggered disputes between member states; some have thrown open their doors to new arrivals, while others have tightened border controls.
The Hungarian government on Tuesday ran a full-page ad in one of the biggest national newspapers in Lebanon, warning people that they would be arrested and put in jail if they enter the country illegally.
One day prior, the Hungarian parliament passed a law authorizing the government to deploy the military to help handle the refugee crisis.
The law would allow the army to use rubber bullets, pyrotechnical devices, tear gas grenades, or net guns, the parliament's website said.
Hungary has also come under fire for its construction of a 110 mile fence along its border with Serbia. Budapest is expected to extend that barricade by also building fences along the Croatian and Romanian borders.
Slovakia introduced temporary controls on its borders with Hungary and Austria last week, sending an additional 220 police officers to the area.
Germany and France have been rallying for a quota system for weeks, with German Chancellor Angela Merkel saying earlier this month that such a plan would be a "first step." She has stressed that all member states should share responsibility.
The Organisation for Economic Co-operation and Development says Europe can expect a record one million people to request asylum this year, almost half of which will likely qualify to be taken in.
EU leaders will hold an emergency summit on Wednesday, which will focus on ramping up aid for Syrian refugees in Turkey and the rest of the Middle East, as well as tightening control of the bloc's external borders.
You can share this story on social media: