Space safari: Stunning tour over Pluto's icy terrain (VIDEO)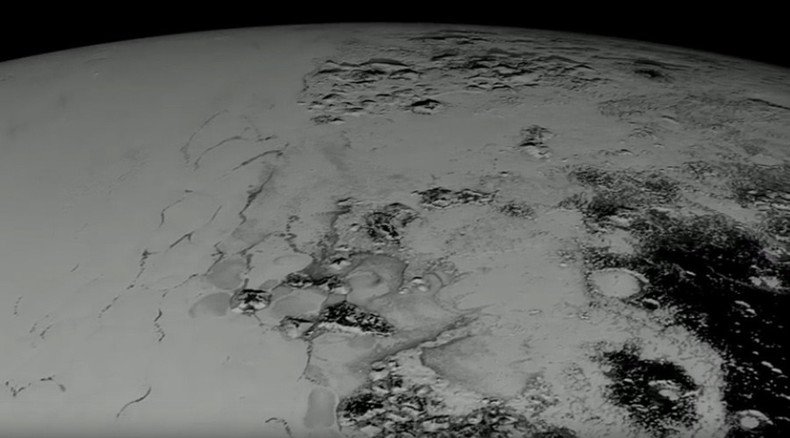 If a flying space safari over Pluto's ice-covered mountains sounds like a trip you'd like to embark on, you can now do so. New animation gives a bird's-eye view of the dwarf planet's stunning terrain, using images snapped by NASA's New Horizons spacecraft.
The animation was put together by Stuart Robbins, a research scientist at the Southwest Research Institute in Boulder, Colorado. The project was created using a mosaic of images snapped during the spacecraft's flyby of Pluto in July, which were beamed by New Horizons this month.
"Over the past two weeks, New Horizons has returned to Earth dozens of images at up to 400 meters per pixel (m/px) of the flyby hemisphere, and this has given scientists and the public an unprecedented view of this mysterious world," Robbins said on NASA's blog.
The newest pictures, which reveal new details about Pluto's atmosphere, weather patterns, and streams of frozen nitrogen, have been referred to as a "scientific bonanza" by NASA.
Robbins said that while he typically uses the images in a professional sense, to map craters across the surfaces of Pluto and its largest moon, Charon, he is also interested in conveying the pure beauty that is found on the dwarf planet.
An "interest of mine is figuring out how to make visualizations that convey some of the sheer beauty and power of the features New Horizons is revealing. With that in mind, I've created a new animation/flyover of Pluto..." he said.
The result is breathtaking, showing "what it might be like to take an aerial tour through Pluto's thin atmosphere and soar above the surface that New Horizons explored."
The out-of-this-world tour begins at a height of about 120 miles (193km), over the mountains known as Norgay Montes. The mountain range – informally named after Nepalese mountaineer Tenzing Norgay, one of the first people to reach the summit of Mount Everest – rises almost 2 miles (3km) from the surrounding surface.
The journey then heads north over Sputnik Planum and Cthulhu Regio. Robbins notes the contrast between the two, saying that "while Sputnik Planum is smooth at this pixel scale, it's in marked contrast to Cthulhu Regio, which has many large impact craters and indicate the Regio is much older."
He also notes the differences in brightness, which are "some of the largest natural brightness variations of any object in the solar system."
The spectacular animation comes less than one month after a video of Pluto's flyby, also created by Robbins, was released.
While the images already provided by New Horizons have been stunning, even more impressive pictures are on the way.
"I can hardly wait until we get even better imagery – up to seven times better pixel scale – that's still to come of select areas of the surface and to see what new surprises Pluto has in store," Robbins said.
Mission team members estimate that New Horizons will take about a year to beam all of the images and data collected during its close encounter with Pluto.
It took New Horizons nine years to reach the dwarf planet. The spacecraft flew by the planet at a distance of only 7,750 miles (12,500km) on July 14, taking many images at a resolution of a quality up to 400 meters per pixel. The spacecraft, which has been described as resembling a foil-covered grand piano, is 27 inches (70cm) tall, 83 inches (2.1 meters) long, and 108 inches (2.7 meters) wide. It weighed 1,054lb (478kg) at launch.
You can share this story on social media: