75,000 gather to watch medieval battle reenactment in Russia (PHOTOS)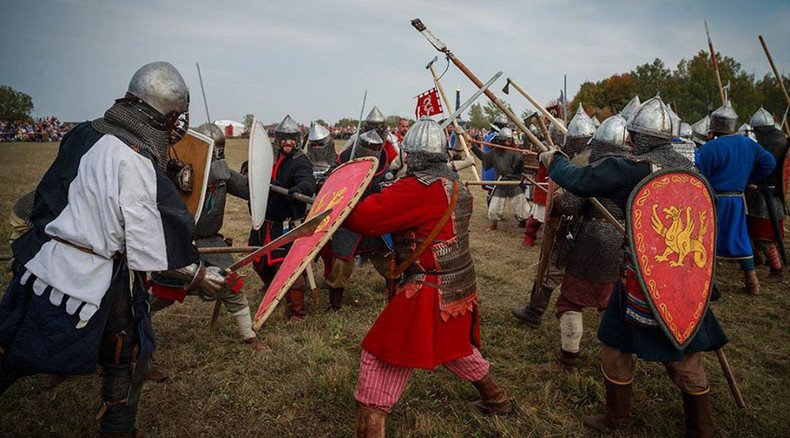 Hundreds of enthusiasts in medieval armor could be seen interlocking their swords in the popular historical reenactment of the crucial 1380 battle between Russians and Mongols. The show attracted thousands of Instagramming viewers to a village some 300 kilometers south of Moscow.
The 635th anniversary of the battle which took place in September centuries ago was celebrated at the Kulikovo Field near the city of Tula. The field is located roughly 270 kilometers (167 miles) south of Moscow.
The place near the Don river where the armies of the Mongol Golden Horde under the command of Mamai, and various Russian principalities under the united command of Prince Dmitry of Moscow fought, is now a state museum and memorial complex.
Although the Russian army of some 60,000 was outnumbered by Mamai's up to 150,000 warriors, the battle was won by Dmitry, after which he became known as Donskoy – Dmitry of the Don. The Russians are believed to have lost tens of thousands in the bloody battle, while almost the entire Mongol army was wiped out.
Legend has it that the fallen Russian soldiers were buried at the site and a stone church was later built on the spot, but mysteriously no burials have been found in the area, where so many people were killed.
The victory in the battle did not end the Mongol domination over Russia; the Golden Horde lasted for another 100 years. Many historians, however, regard it as a turning point in Mongol rule, having prompted the rise of the Grand Duchy of Moscow.
Historical reenactment enthusiasts have been performing the battle for 19 years, organizers said. This time, more than 300 participants from all over Russia and also from Ukraine took part in the military and historical festival, with the reenactment being the highlight of the celebrations.
Prior to the staged battle, participants were living in the field in tents for several days. Men were practicing their fighting skills, while women were involved in domestic duties and crafts, avoiding any 21st century paraphernalia and activities.
Visitors of the main event during the weekend could also buy various crafts at a fair, as well as attend lectures by professional historians, who made sure the reenactment was not only fun and entertaining, but also as accurate as possible.
You can share this story on social media: