Refugee kicked by Hungarian camerawoman was member of terror group, Kurdish party claims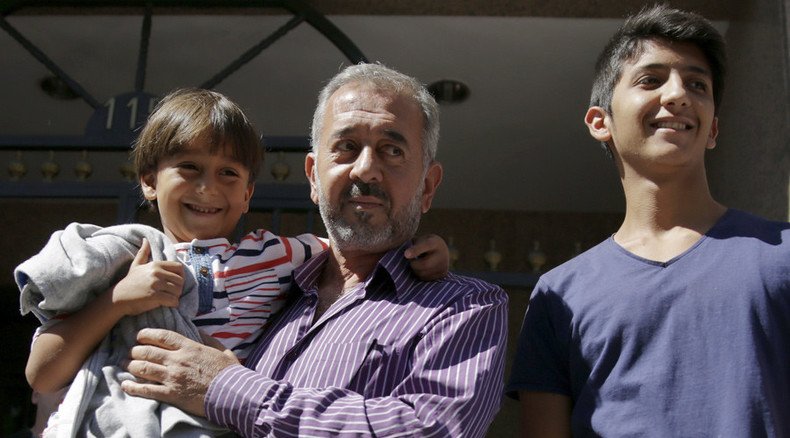 A Syrian man who was tripped over by Hungarian camerawoman in a video that went viral has been claimed to be an alleged member of a militant Islamist group that had committed crimes against civilians in his homeland.
Osama Abdul Mohsen was accused of being a member of the Al-Qaeda-linked Al-Nusra Front by the Syrian Kurdish Democratic Union Party (PYD) in a statement released on Friday.
"Osama Abdul joined the rebel groups in 2011 and committed crimes against civilian minorities, including Kurds," the statement says.
It adds that "testimonies… of many Kurds alongside with images obtained [from Mohsen's Facebook page]" provide evidence of his involvement in the Al-Nusra Front's activities.
The PYD also claims that Osama Abdul Mohsen was living in the Syrian town of Tel Abyad and decided to flee ahead of Kurdish forces seizing the city last July "in fear" that his involvement with the militant group would be revealed.
Mohsen got widespread support and sympathy after a video with him went viral causing a wave of public indignation in many countries all over the world. In this video, Osama Abdul Mohsen was filmed being tripped over by a Hungarian camerawoman as he tried to run across the Hungarian border with his 8-year-old son in his hands.
The camerawoman was condemned in Hungary and around the world, while the asylum seeker and his son saw a touching wave of support. Mohsen was invited to live in Spain by a football academy as it turned out that he had been a football coach back in Syria. He was also offered a job in the Spanish football school Cenafe in Getafe, near Madrid.
Osama Abdul Mohsen and his family were even met by Cristiano Ronaldo during a Real Madrid game against Granada, to which the famous football player himself invited them.
PYD statement claims that Mohsen was not just a member of Al-Nusra Front but also fought against Kurds near the Syrian towns of Amudeh, Serekaniye and Afrin being involved in crimes against civilians.
Additionally, the PYD accuses Mohsen of provoking violence after the football match between al-Fatwa and Qamishlo's Jihad club back in 2004. The statement says he, who was the coach of al-Fatwa club in Deir ez-Zor between 2004 and 2010, was an instigator of violent clashes that resulted in deaths of 50 Kurds at that time.
You can share this story on social media: