'Google fortune-telling website' set up to raise refugee awareness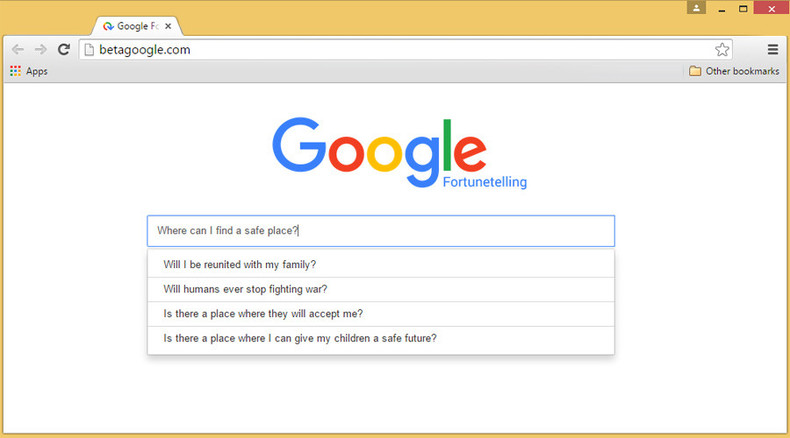 A website that masquerades as a Google attempt at fortune-telling has emerged online. Despite not helping anyone learn their future, it has served to remind people of the plight of the Middle East's refugees and migrants.
The ploy by a Dutch PR company works in the following way: the user goes to betagoogle.com, which looks like a carbon copy of Google's new start page, with the words 'fortune-telling' below the logo. The site then asks the user to type in a query, before clicking 'predict my future.'
As unsuspecting users then begin testing the 'search engine', it begins giving out information on its own: the user types in the first few letters of the words 'where', before questions begin to be filled in automatically, such as 'will I be reunited with my family', or 'is there a place where they will accept me'.
The site satirizes the common user's first-world problems and promptly flashes this message: "Of course we can't predict your future! But 60 million refugees ask themselves every day if they have a future at all."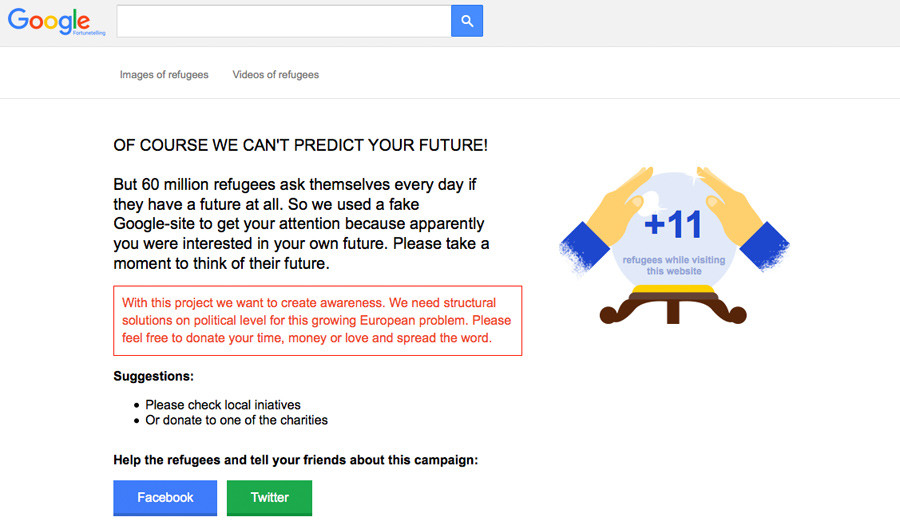 The website also provides links to UNHCR – the UN's refugee agency, and offers additional information on how to help out with efforts to deal with Europe's current refugee and migrant crisis.
"We are very happy that people care about this problem and are sharing it and creating awareness around the world," Jort Boot, the owner of BrainMedia, the company behind the website, told Digiday.

People had initially thought Google was behind the prank. The multi-billion-dollar corporation doesn't usually shy away from such stunts, but the tech giant has been setting up its own campaigns and raising funds for the crisis effort.
The whole idea of 'Google fortune-telling' was to fool initial visitors into finding the site, and then to encourage them, under equally false pretenses, to share it. The ploy seems to have worked: 731 tweets occurred within 24 hours last Friday, according to Topsy.