Russian embassy in Damascus comes under mortar fire – Foreign Ministry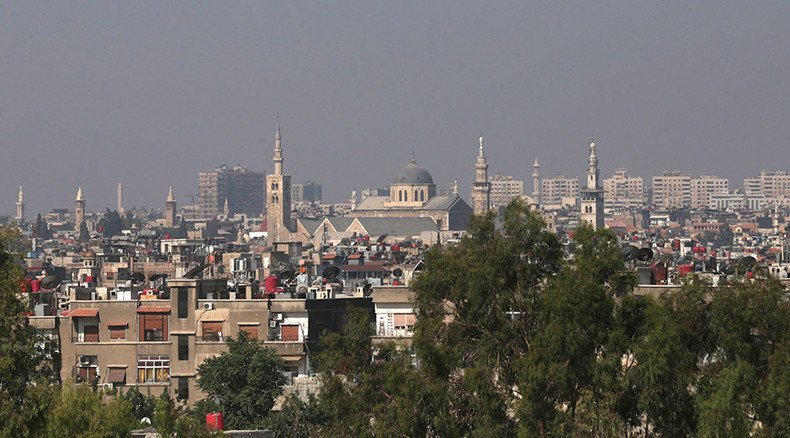 Russia's embassy in the Syrian capital has been caught in mortar shelling carried out by rebel militant groups, although there have been no casualties, the Russian Foreign Ministry said in a statement condemning the attack.
"A mortar projectile hit the territory of the Russian Embassy in Damascus at 09:00 AM (local time) on September 20. The shell embedded itself deeply into the ground, inflicting no damage," said the ministry's statement published on Monday.
The ministry put the blame for the incident on "the anti-government militants" that took position in the neighboring district. "They [the militants] are not affiliated with Islamic State [IS, formerly ISIS/ISIL], although they have foreign sponsors who bear responsibility for exerting influence on these illegal armed groups," the statement says.
The ministry strongly condemned the "criminal shelling" of the embassy and said it was waiting for "every member of the international community, including regional actors, to take a clear stance on this terrorist attack."
Not only words but also concrete actions are needed, the ministry added.
Earlier, some anti-government militant commanders promised that Syria would become "another Afghanistan" for Russia, as reported by Reuters.
Russia has repeatedly emphasized that it supports Syria in its fight against IS, adding that Moscow's main goal is fighting terrorism.
Moscow has also recently said that it may consider forming a military expedition to join the Syrian army in its fight against terrorists if Damascus asks for help.
"If such a request is lodged within a framework of bilateral contacts, it would be discussed and considered [by the Russian leadership]. So far it's hard to hypothesize," Putin's spokesman Dmitry Peskov said on Friday following a statement by the Syrian foreign minister, who earlier said that his country could ask for military help if needed.
The Russian Foreign Ministry also said on Friday it was ready for negotiations with the US on Syria. "We have never refused dialogue with the United States," said ministry spokeswoman Maria Zakharova.
You can share this story on social media: