Putin to Netanyahu: Syrian army too busy saving country to threaten Israel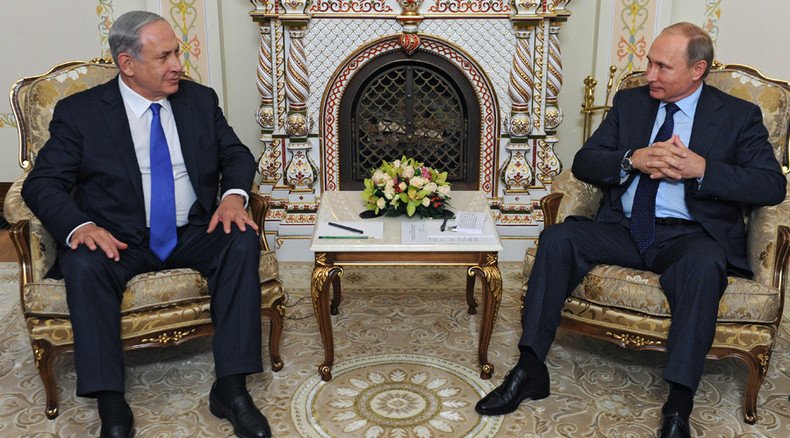 Israeli concerns that Syria would provide advanced weapons to the Lebanese militant movement Hezbollah are exaggerated, considering that the country is fighting for survival, the Russian president told the visiting Israeli prime minister.
Benjamin Netanyahu is in Moscow on Monday to discuss the deteriorating security situation in the Middle East and clarify Russia's position.

"Israel and Russia have common goals – to ensure stability in the Middle East," Netanyahu said. "Iran and Syria are arming the radical Islamist terrorist group [Hezbollah] with advanced weapons, which they use to target our country."

The PM alleged that Damascus and Tehran are working to "create a second terrorist front in the Golan Heights."
The Israeli concerns are exaggerated, Vladimir Putin assured his guest.
"We have always condemned the rocket attacks on Israel, but as far as I know those rockets are home-made," Putin said. "As for Syria, we know and understand that the Syrian army and the country in general are not in a condition to open a second front. The Syrians are busy fighting for their own statehood."
Netanyahu's visit comes amid media hype over alleged intensification of Russian military support of Damascus. Some reports suggested that Russia delivered military hardware and troops to Syria to prop the government of President Bashar Assad. Moscow insists that nothing extraordinary is happening compared to the regular supplies of arms that Russia has been doing for years under previous contracts with Syria.
READ MORE: 'No one can bury heads in sand:' Hezbollah leader calls for help fighting ISIS in Syria
Israel has been keeping distance from the Syrian war since it started in 2011, with the exception of several airstrikes reportedly launched by the IDF to prevent the supply of advanced weapons to Hezbollah. The Lebanon-based militant movement is an ally of the Syrian government and had deployed its fighters to support Damascus.
You can share this story on social media: