'Beatings, inhuman conditions': HRW accuses Macedonia of brutal asylum seeker treatment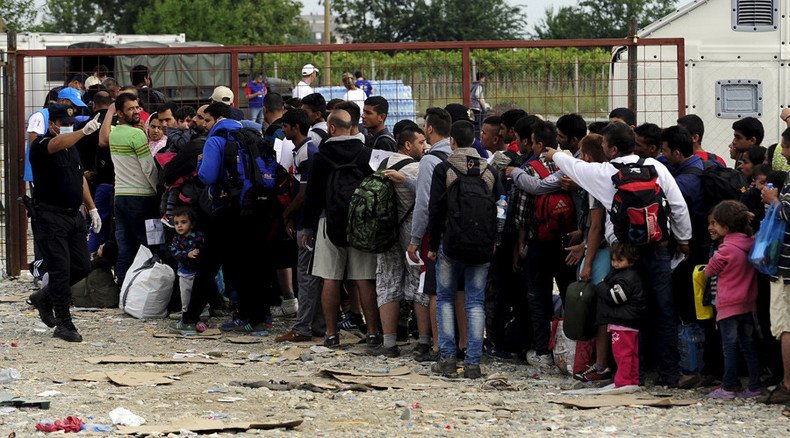 Macedonian border police and detention center guards stand accused of inhuman treatment of asylum seekers. Victims recounted verbal and physical abuse, while enduring substandard living conditions, according to a Human Rights Watch report.
The 59-page document, issued Monday, is compiled from interviews with 64 victims and witnesses. The abuses have for the most part occurred at Reception Center for Foreigners, a detention facility in Skopje known as Gazi Baba, in the June 2014-July 2015 period.
Unlawful arbitrary detention was part of the testimonies, which also included claims of beatings with batons, as well as being kicked, punched and verbally abused. In extreme cases, a refugee would be reportedly forced to run the gauntlet between Macedonian officers, who would take turns to hit the person as they ran past.
Ayesha, 16, said she was one of the victims of the beatings, along with her father and 17-year-old brother.
Photographic evidence gathered by HRW also shows ramshackle sleeping quarters with decrepit walls and floors, mattresses lining them.
"Human Rights Watch interviews with 30 former detainees indicate that migrants and asylum seekers were detained in the Gazi Baba center for weeks or months in overcrowded, unsanitary conditions that amount to inhuman and degrading treatment.
READ MORE: Please, don't come: Hungary posts ad in Lebanon threatening jail for illegal migrants
"Migrants and asylum seekers in Gazi Baba did not have beds, mattresses or blankets, were deprived of the right to adequate food, water, clothing, and a minimum of space, sanitation and hygiene, privacy and security necessary for a humane and dignified existence. They lived and slept in dirty and overcrowded rooms and corridors without natural light or fresh air. Those interviewed by Human Rights Watch had been detained for up to seven months in the period between June 2014 and July 2015," the HRW report says.
The Macedonians have initiated a probe, resulting in disciplinary action against five Gazi Baba personnel, and one suspension. However, no investigations have been launched into any border police, HRW says.
But the issue of violence isn't likely to change "unless the Macedonia authorities start thoroughly investigating allegations of police ill-treatment of migrants and asylum seekers, and holding anyone responsible to account," according to Emina Ćerimović, Koenig fellow at HRW.
Macedonia is an aspiring EU member. The country is therefore obliged to fulfill the minimum requirements under national and international law. Part of these is to ensure no arbitrary detention, and no harm otherwise, comes to those seeking asylum there.
One other problem identified is the poor effort by the Macedonians to investigate cases thoroughly.
"While Macedonia has stopped routinely detaining migrants and asylum seekers in degrading conditions, its asylum and migration practices still fall short of its obligations under national, EU, and international law," Cerimovic also said.
The authors make a series of recommendations to the EC (as the monitor of the steps Macedonia takes on its path to EU membership) and the Macedonian government and Ministry of the Interior. They urge all involved parties to seize upon any opportunity to ensure that the unlawful detention and ill-treatment of refugees, as well as poor performance with regard to assessing cases, are strictly monitored and reported.
You can share this story on social media: