Trade blockade? Ukrainian activists block food trucks on checkpoints to Crimea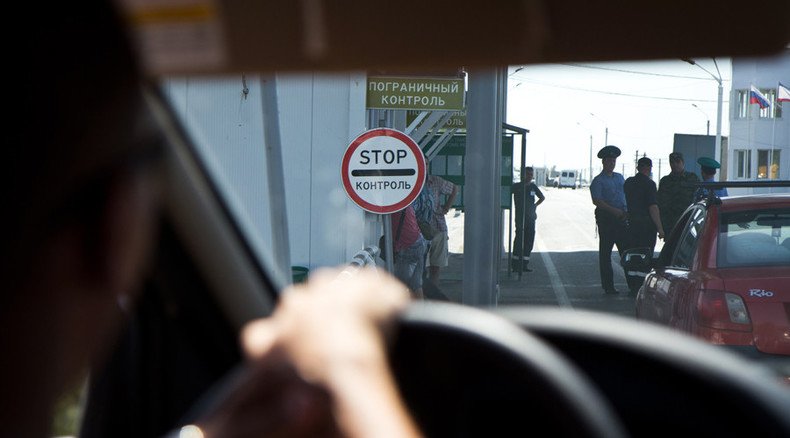 Protesters from Ukraine have occupied highways near three checkpoints in between Ukraine and Crimea, not letting food trucks cross into the peninsula. Crimean authorities say the blockade won't have significant effect on the economy.
Ukrainian activists have blocked the roads leading from Ukraine into Crimea, having stopped about 200 trucks, 112 Ukraina news outlet reported citing Ukrainian officials. Crimean deputy Prime Minister Ruslan Balbek also confirmed the blockade.

The action was announced beforehand by adviser to the Ukrainian interior minister, Zoryan Shkiryak, on his Facebook page.
"The peaceful indefinite civilian campaign by our brothers the Crimean tatars, to ensure a trade blockade, has started," he said, adding that only three crossing points have been blocked – Chongar, Chaplinka and Kalanchak.

Shkiryak said that the public order there is secured by a special Ministry of Internal Affairs team, battalion "Kherson", with "all actions being totally in accord" with the security agencies, border control officials and the organizers of the blockade.

Earlier, an announcement of a plan to block the border with Crimea was made by Ukrainian MPs, leaders of an unregistered organization "Majlis of Crimean tatars" Refat Chubarov and Mustafa Jemilev. They were followed by the radical Right Sector movement.
The "blockade" won't significantly damage the Crimean economy, according to Prime Minister of Crimea Sergey Aksyonov.

"Crimea won't notice it. In reality there it poses no problem. There are no more than five percent of Ukrainian goods on the shelves of grocery stores of the republic of Crimea," Aksyonov told reporters on Sunday.
READ MORE: Ukraine names Russia as 'military adversary' in official defense doctrine

Prime Minister added that the ferry transportations could increase the load if necessary.

"These blockades, these provocations they are staging should have been conducted a year ago, and today we're independent from the Ukrainian market," Crimean first vice premier Mikhail Sheremet told RIA.

The Crimean first vice premier also said that, in his opinion, the end to the blockade will be implemented by Ukrainian manufacturers who will suffer huge losses if they break off trade ties with Crimea.
You can share this story on social media: