German fighter jets start patrolling Baltic skies with full ammo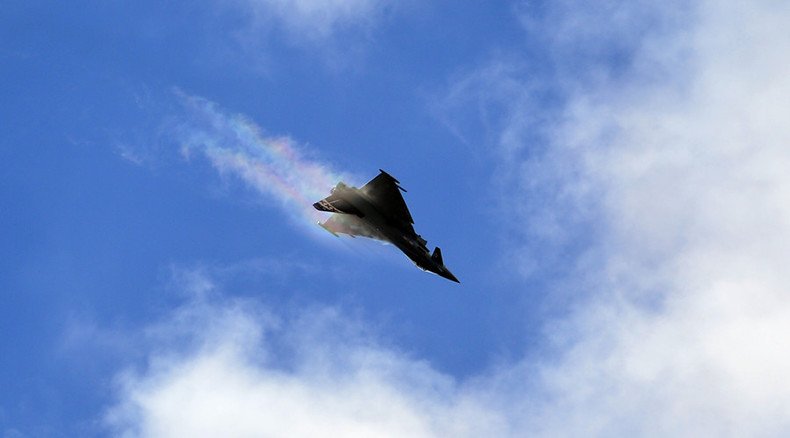 German Air Force Eurofighter Typhoon fighter jets have started patrolling the airspace of the three Baltic States with full ammunition loads. The move is designed to "motivate" German pilots, the military say.
German fighter jets are flying the Baltic skies fully armed "for the first time since the beginning of the Ukrainian crisis," the DPA news agency reports citing the German Air Force's Inspector General Karl Müllner. He explained the move was not about "escalation," but it is needed to ensure parity when encountering a potential enemy. The German military official did not elaborate on which Air Force might become the enemy.
Müllner added that ammunition on board Eurofighters is also necessary to "motivate pilots" on missions in the Baltic skies.
In September-December 2014, German fighters patrolled Latvian, Lithuanian and Estonian airspace with empty magazines. Müllner said that was a political decision aimed at de-escalating tensions.
None of the three Baltic States, which are NATO members, have operable fighter jets of their own. In April 2004, soon after these countries joined the alliance, NATO decided to introduce air patrols of the Baltic nations bordering Russia with fighter jets of other alliance members.
Squadrons of all NATO member states that have an air force have sent squadrons to the Baltics.
Since September 1, four German Eurofighter Typhoon jets and four Hungarian Air Force JAS 39C Gripen fighter jets have been protecting Baltic skies. Hungarian jets are based in Lithuania's Siauliai, whereas the Luftwaffe's Typhoons use Estonia's Ämari airbase.
Following Crimea voting in favor of reunification with Russia, the Baltic States said they were worried about the Russian military, demanding more NATO presence in their countries, including air patrols.
Last month, the Russian Foreign Ministry said increasing troop presence at Russia's borders is being done to achieve "dominance" in Europe. The ministry added that the military buildup is "counter-productive" and serves as a "financial burden" for member states, as it "distracts" the alliance from dealing with other threats.
READ MORE: Pentagon updates plans for war with 'potentially aggressive' Russia – media
You can share this story on social media: