Saudi air raids kill dozens of Yemeni civilians amid humanitarian crisis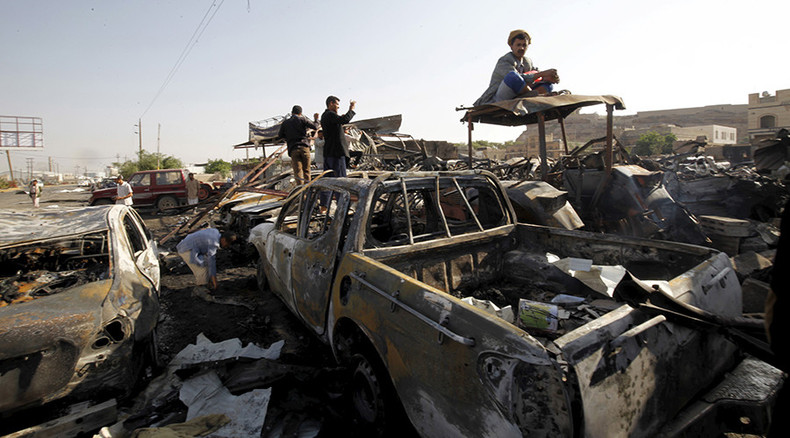 The latest Saudi-led airstrikes in Yemen have left dozens of civilians dead and nearly 160 injured at a time that sees medical facilities struggling to provide even the most basic services. The country is suffering from a shortage of vital supplies due to the ongoing blockade.
The coalition air raids against Houthi forces in Sanaa overnight on Friday killed at least 40 civilians and injured at least another 130 people, Yemen News Agency (SABA) reported.
One strike leveled an apartment building in the center of the city killing a family of nine, while another strike killed a man who had been searching for his family in the rubble, AP reported. The coalition has even managed to attack Yemen's interior ministry in the capital, launching about 10 strikes at the building as well as at a police camp and a military building close to it.
The airstrikes also hit the residence of Oman's ambassador in Sanaa.
"Oman received with deep regret yesterday's news targeting the ambassador's home in Sanaa, which is a clear violation of international charters and norms that emphasize the inviolability of diplomatic premises," the foreign affairs ministry's statement said.
A further 38 civilians were killed by the airstrikes in the northern province of Saada while another 27 were left wounded, according to a DPA-interviewed official.
Meanwhile civilians suffering violence on the ground and the wrath of the Saudi-led aerial campaign continue to face humanitarian crises, with fuel and vital medical supplies running out. The health ministry issued a statement saying that it is overwhelmed by the amount of wounded as it lacks basic medicines necessary for treating the injured. The plea call also said that medical facilities lack fuel to operate ambulances and hospital equipment, SABA reports.
READ MORE: UN condemns 'virtual silence' on civilian casualties in Yemeni conflict
"At the moment we only have enough fuel in the north and centre of the country for the next six weeks," Mark Kaye, the acting director of advocacy for Save the Children in Yemen, told The Independent. As well as no electricity for households and petrol for vehicles "that means no fuel for hospitals, who rely on generators for their work."
The official UN death toll figures illustrate that almost 4,900 people have been killed since Saudi forces began their bombardment of Yemen late March. The UN aid chief has called the scale of human suffering "almost incomprehensible."