Putin orders talks on Russian military base in Belarus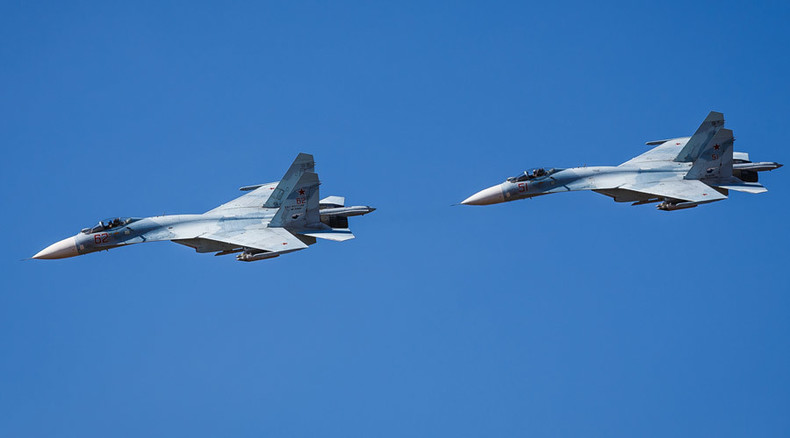 President Vladimir Putin has ordered an agreement be signed with Belarus to create a Russian air base on its territory.
"To accept the proposal of the Russian government to sign an agreement on a Russian air base in Belarus between Russia and Belarus," the decree reads according to the Kremlin's press service.

President Putin also ordered the Russian Defense Ministry to start all necessary negotiations with Minsk on the issue.

"The agreement will help jointly protect the outer border of the Union State [of Russia and Belarus] in the air and also create a unified system of air defense," the order reads. How exactly this will be done and what role the base will play is still subject to talks.
On Saturday, the Russian president also visited the Center-2015 drills in the Ural region where he praised this year's defense procurement.
"2250 units of modern equipment have been delivered. There are Su-35, Su-35S fighters, MI-8MTV51 helicopters, radars, new airborne assault vehicles, infantry combat vehicles and UAV complexes," Putin said as quoted by TASS.
Putin also called for more domestic military production – particularly complex components and kits.
It comes just over a week after Russian Prime Minister Dmitry Medvedev said Moscow is ready to establish military air bases in neighboring countries.

"As for agreements concerning the establishment of such bases, we already have such facilities… in Kirgizia and Armenia, and there is nothing strange here. We are ready [to strike agreements on the stationing of air bases] with any of the countries with which we have alliance treaties, whether it is CSTO or CSTO plus, as in the case of the Republic of Belarus," Medvedev said at the meeting in the Belarusian city of Grodno.

The Collective Security Treaty Organization (CSTO) is a regional military alliance, founded on May 15, 1992, which includes Russia, Armenia, Belarus, Kazakhstan, Kirgizia, and Tajikistan.
READ MORE: Russia simulates international conflict in 'biggest war drills since Cold War'
Last year, news emerged of Russian Su-27 fighter jets being sent to the eastern Belarus town of Bobruysk.

Initially, the idea of an air base in Belarus was voiced by Russian Defense Minister Sergey Shoigu in 2013. Four years earlier, an agreement was signed between the two countries, aiming to create a joint air force to defend the borders of the Union State of Russia and Belarus.