Croatia refuses to accept refugees, partly closes borders with Serbia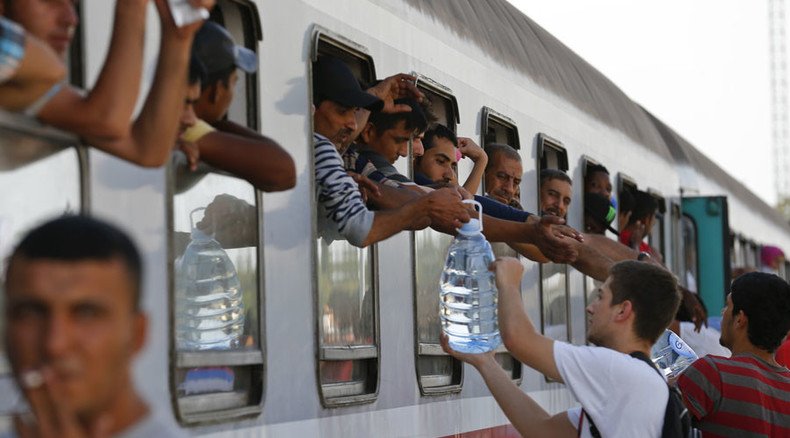 Croatia has closed seven of its eight border crossings with Serbia overwhelmed by a huge surge of refugees turned away by Hungary. PM said Croatia will not accept or accommodate asylum seekers any longer.
"We cannot register and accommodate these people any longer," Prime Minister Zoran Milanovic told reporters on Friday. "They will get food, water and medical help, and then they can move on. The European Union must know that Croatia will not become a migrant 'hotspot.' We have hearts, but we also have heads."
On Thursday Croatia closed most of its road border crossings with Serbia leaving only one on the main road linking Belgrade and Zagreb at Bajakovo. The decision came as over 13,000 refugees entered the country after Hungary closed its borders on Wednesday failing to cope with the refugee flow. Police told Reuters that about 500 refugees had been detained after crossing into the south of Hungary from Croatia on Thursday.
Some of the refugees appear to be stuck on the border between Croatia and Hungary. Reuters reported on Thursday that a convoy of more than 10 buses which was heading towards the Croatian city of Osijek was turned towards the Hungarian border. Refugees were offloaded at the Croatian border village Beremend, according to a Reuters reporter at the scene. Hundreds of migrants were also witnessed on Friday at a petrol station by a road in the Croatian border town of Beli Manastir.
Scuffles between refugees erupted on Friday at the Croatian Beli Monastir train station as the people were boarding the trains bound for Zagreb. Some were injured and received first aid.
Dozens of refugees staged a silent sit-in protest at the Serbian-Hungarian border near the town of Horgos on Friday. They held placards which read: "We don't have houses anymore. We will live here," and "This is shame for Europe."
LISTEN MORE:
The site was a scene of violence on Tuesday, when police used water cannon and teargas to push back refugees attempting to enter Hungary.
Milanovic said on Friday he has called a session of Croatia's National Security Council. Interior Minister Ranko Ostojic told N1 Television that "it's a matter of time" before Croatia closes all borders.
Columns of asylum seekers were expected to turn to Slovenia, however the Interior Ministry said on Friday that Slovenia does not intend to open a corridor for the refugees heading to Western Europe to pass through.
"At the moment we have no basis on which we could form a corridor," Interior Ministry state secretary Bostjan Sefic told reporters.
'Time is running out'
The UN refugee agency (UNCHR) on Friday issued a stark warning that time was running out for Europe to resolve the current refugee crisis.
"With more than 442,440 refugees and migrants having arrived via the Mediterranean so far this year, some 2,921 deaths, and 4,000 people arriving on the Greek islands daily, the crisis is growing and being pushed from one country to another without solution," UNHCR spokesperson Adrian Edwards told reporters in Geneva.
The agency blamed an absence of a "coherent response" to the situation as the main reason for confusion which sometimes resulted in violence at the border crossings and camps.
READ MORE: Hungary detains 29 asylum seekers including 'identified terrorist' in border clash
"This environment is fertile ground for people-smugglers and others seeking to prey on this vulnerable population," he said.
He welcomed European Parliament's Thursday decision to relocate an additional 120,000 people to all countries of the EU.
Adrian Edwards said that the Extraordinary Justice and Home Affairs Council meeting called for Tuesday and the European Council meeting slated for Wednesday may be "the last opportunity for a positive, united and coherent European response to this crisis."
"Time is running out," he said.
LISTEN MORE:
The International Organization for Migration (IOM) warned on Friday that the situation risked turning into another WWII.
"It's very similar to what happened in the 1920s in Europe when the beggar-thy-neighbour policy on trade pitted countries against each other and led to the war," said Joel Millman, spokesman for the IOM.
"We fear that something similar is happening now with the kind of hardening of borders and as a response to Germany's decisions."
In a report issued on Friday, the European statistics agency (Eurostat) said that the number of people seeking refuge in the EU in the second quarter of 2015 was 85% higher than during the same period in 2014.
213,200 people have applied for asylum in second quarter of 2015, with Germany receiving the highest number of applications – more than a third. Hungary had 15 percent; Austria had 8 % followed by Italy, France and Sweden – each 7 %. Compared with the population of each EU member state, the highest rates of registered first time applicants during the second quarter 2015 were recorded in Hungary, according to Eurostat. Most of the asylum seekers are from Syria and Afghanistan, it said.
You can share this story on social media: