Violence in Jerusalem as Palestinians stage 'Day of Rage' after Al-Aqsa clashes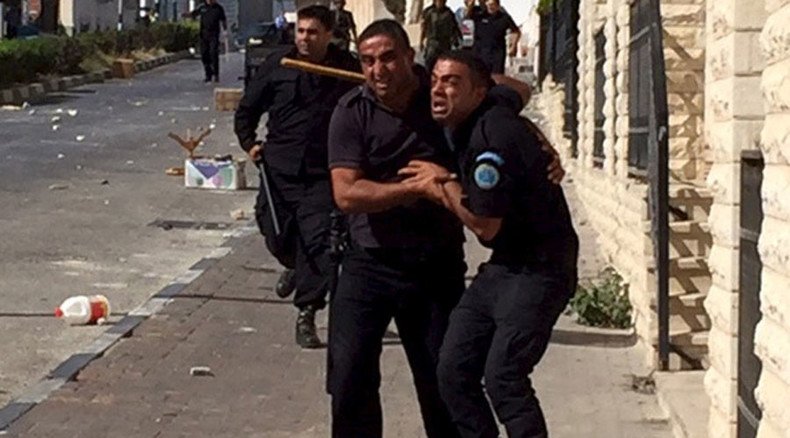 Several people were injured during violence in Jerusalem on Friday, as Palestinians staged a 'Day of Rage' to protest new Israeli security measures.
Accounts on the violence vary. According to The Times of Israel, a Palestinian rioter and three Border Police officers were injured in the Mukaber neighborhood in southwest Jerusalem. The incident reportedly began when Border Police in the East Talpiot area came under a deluge of petrol bombs and stones.
"A number of fire bombs were hurled at security forces who arrived to disperse protesters. A number of injuries have been reported," a police statement said.
"During clashes with Border Police and residents of Jabel Mukaber, protesters blocked several streets with burning tires, and garbage dumpsters."
READ MORE: Israeli forces storm courtyard of Al-Aqsa Mosque in Jerusalem
Three people were arrested.
A report from The Jerusalem Post stated that the officers were injured due to gunshots and firebombs, and did not mention any Palestinians getting hurt.
The reports came just hours after separate clashes were said to have rocked Jerusalem and the West Bank.
Scuffles took place between Palestinian protesters and Israeli security forces in Qalandia, the main checkpoint between Jerusalem and Ramallah, according to Reuters.
In Nablus, West Bank, a young man was shot by security forces after throwing a fire bomb, the Israeli army and medics said.
The violence came as Palestinians staged a 'Day of Rage,' which followed several days of rioting at Al-Aqsa Mosque, also known as Temple Mount.
An Israeli "security operation" on Sunday saw the use of grenades and tear gas at Temple Mount. Several Palestinians were injured.
The recent clashes at the site prompted Israel to call up a few hundred reservists to beef up security at the site on Friday.
READ MORE: Israel approves use of police sniper fire against Palestinian rock-throwers - reports
Also on Friday, reports emerged that the Jewish state had approved the use of a low-powered Ruger sniper rifle by police against "certain" rock-throwers in Jerusalem, local press reported.
Stone throwing has been making headlines since July, when Israel approved 20-year jail sentences for those responsible.
On Thursday, Jerusalem Mayor Nir Barkat declared "war" against Palestinian youths who throw firebombs and rocks in the city, saying police must use live ammunition if they are to counter attacks against officers and Jewish civilians.
LISTEN MORE:
In a phone interview with the Times of Israel, Barkat said such behavior is "unacceptable anywhere else in the world" and that Israel has been too "merciful."
The Friday unrest comes just one day after an Israeli bus was set on fire, in what authorities believe was an arson attack by Palestinian youths in East Jerusalem.
You can share this story on social media: