Tsunami waves triggered by 8.3 quake strike Chile (PHOTOS, VIDEO)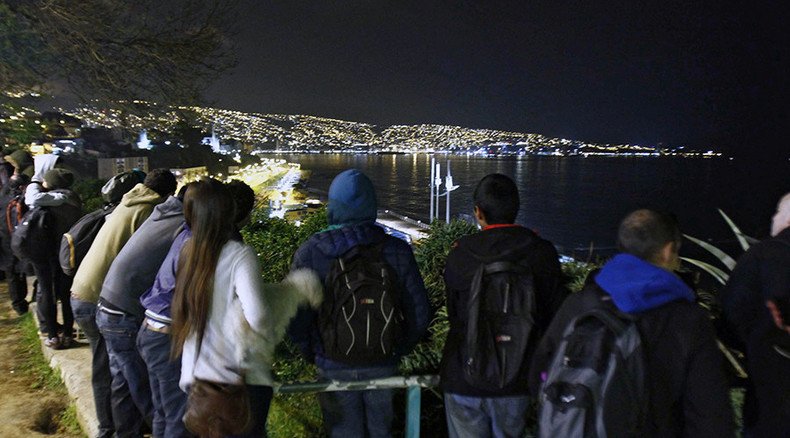 Tsunami waves triggered by a massive 8.3 earthquake have reached Chilean shores, flooding the streets and forcing people to seek shelter on higher ground. Authorities have kept a high alert level in place for most of the coastline.
LIVE UPDATES: Chile mega-quake: 1mn evacuated, at least 5 dead & 20 injured
Chile's coastal city of Coquimbo has been hit by waves measuring up to 4.5 meters above normal sea level, Reuters reported citing the country's navy.
Videos and photos of flooding on the streets of Chilen coastal cities have surfaced online showing some of the damage caused by the the water flow.
Chile's national emergency office has suspended tsunami warnings in the Aysen, Los Rios, Los Lagos and Magallanes regions, as well as Isla San Felix and Juan Fernandez islands. However, the rest of the coastline remains under tsunami alert.
There were no immediate reports of any major damage caused by the tsunami waves.
Earlier, the Pacific Tsunami Warning Center cautioned that some coastal areas of Chile could see waves reaching more than three meters above the tide level.
A tsunami advisory has also been issued for Hawaii, although no major waves are expected to hit the state. Nonetheless, authorities warned of possible strong currents and sea level changes.
Minor waves were also expected to hit parts of Southern California.
Death toll of the earthquake in Chile has risen to ten, Chilean Interior Minister Jorge Burgos said at a press conference, La Nacion reports. He said that the life in the affected area is going back to normal and called on the population to calm down ruling out fuel and food delivery interruptions. He added that it was one of the 30 most powerful earthquakes in the world history.
You can share this story on social media: