Clashes as #YouStink protesters try to surround Beirut parliament building (PHOTOS, VIDEOS)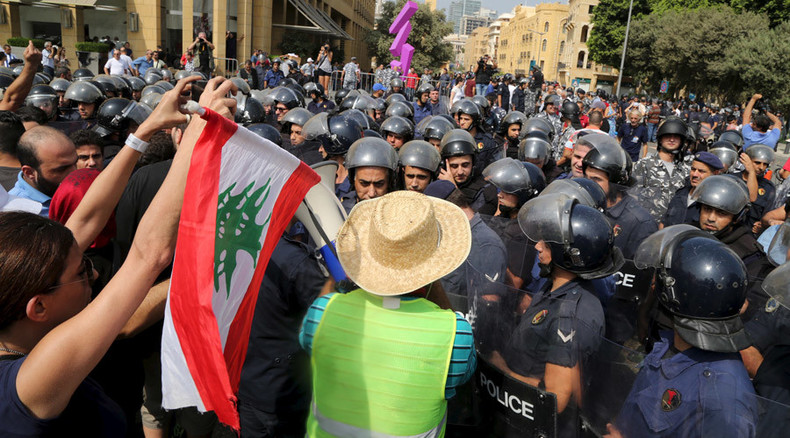 Dozens of anti-government protesters have clashed with police officers in Beirut during the most recent confrontations in the Lebanese capital. Media reports suggest that several people have been injured and arrested during the rally.
The demonstrators gathered in downtown Beirut early Wednesday. They had been attempting to remove barbed wire surrounding the parliament building, prompting security forces to call for reinforcements, Lebanon's National News Agency said.
READ MORE: 'Make it a revolution!': Lebanon protesters give 72-hour ultimatum to government
The rally, which took place under the slogan #YouStink, was organized by the 'Talat Rihtkm' movement on Facebook which called upon people to confront the Lebanese government "physically and vocally". It also urged the participants to bring "pans, garbage and veggies".
"NO for useless dialogues that abate the work of the State's institutions," the group wrote on Facebook.
The Daily Star reported that 38 protesters were detained and 20 injured in the clashes.
"I am here to raise the voice," one protester told TV channel Al-Jadeed, "They [Lebanon's politicians] might be able to enter Parliament but they won't be able to leave it."
READ MORE: Lebanese protesters storm Environment Ministry building, call on minister to resign
The situation in Lebanon has been tense since July when authorities stopped using one of the country's main landfills in the town of al-Naameh, south of Beirut, and piles of rubbish began to appear on the streets of the capital.
In August the protests in Beirut turned violent, resulting in injuries among both protesters and police officers. Numerous videos released on social media show demonstrators throwing rocks and firecrackers at police. The officers responded with water cannon, rubber bullets and tear gas to tackle the demonstrators.