Drone gets terrifying glimpse of growing sinkhole in northeast Russia (VIDEO)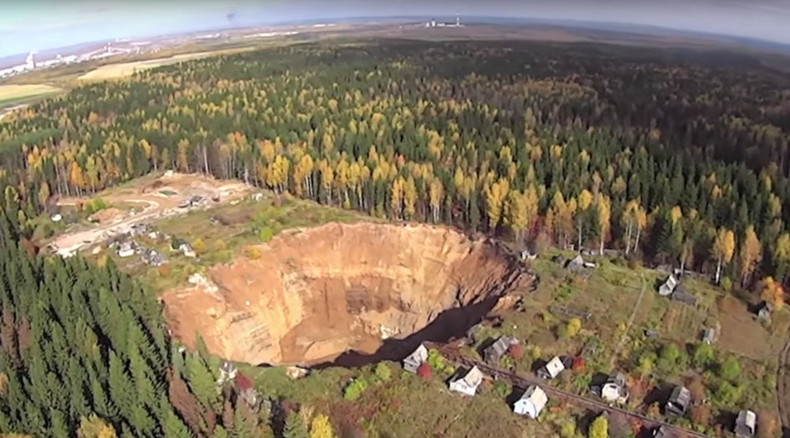 Northeast Russia's apocalyptic sinkhole that has swallowed up everything above it keeps growing bigger. A RUPTLY drone has provided a better picture of the scale of damage.
The city of Solikamsk was first hit by the disaster in November 2014. Then, it was a modest 30 meters (98 feet) wide in diameter. But it's since grown to a whopping 125 meters, causing increasing damage to its rural surroundings.
Gigantic sinkhole swallows up houses in Russia

The abyss near the town of Solikamsk dates back to last November, when its surface dimensions were some 20-by-30 meters. In nine months' time, by the end of August, the crater has reached a stunning 122-by 125-meters wide,

Posted by RT Play on 15 сентября 2015 г.
READ MORE: Gigantic, ever-enlarging sinkhole swallows up houses in Russia (PHOTOS)
And the sinkhole shows no sign of a slowing appetite, as the collapsing soil keeps sucking up nearby houses. It is estimated to be about 75 meters deep, and can already be seen from space.
It's thought the gaping hole emerged following underground floods at Solikamsk-2's mine, owned by the world's number one potash producer, Uralkali.
The crater's origin is different from the natural phenomenon that is behind the craters in northern regions of Siberia, which have recently stunned scientists. Craters in permafrost regions are linked to the process of erosion and gas hydrates in the soil, which leads to underground explosions.
You can share this story on social media: