Saudi King suspends bin Laden's family construction firm after Mecca crane disaster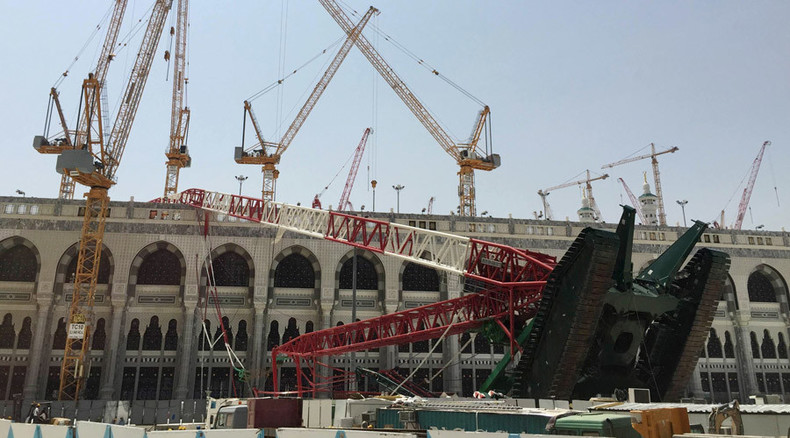 The Saudi Binladin Group (SBG), run by Osama bin Laden's brother, has been banned from taking on new work, and will have its current projects reviewed, at the behest of Saudi King Salman, following the deadly Mecca crane collapse last week which killed 107 people.
According to official state mouthpiece, the Saudi Press Agency, which cited government investigators, SBG was "partly responsible for the accident" and "had not respected the rules of safety."
The crane, allegedly toppled by high winds, collapsed on top of worshipers who had been gathering outside the Grand Mosque, next to the Kaaba, Islam's holiest site in Mecca, causing 107 deaths and almost 400 injuries.
"The position of the crane was in violation of operating instructions prepared by the manufacturer," said the investigators, who are expected to deliver a full report by Friday.
Members of the SBG board of directors, including chairman Bakr Bin Laden, have been told to stay inside the country, until a verdict is pronounced on the accident.
SBG had been the preferred contractor of the Saudi regime for large-scale infrastructure and prestige projects, and had been in charge of the $27 billion expansion of the Grand Mosque for four years. At the end of the project, the building was to grow by 400,000 square meters – big enough to house 2.2 million people at once.
An anonymous senior SBG engineer told AFP that the accident had been "an act of God," and that the structure had operated without a hitch for almost the entire length of the reconstruction.
"It has been installed in a way so as not to affect the hundreds of thousands of worshipers in the area and in an extremely professional way," he said of the crane. "This is the most difficult place to work in, due to the huge numbers of people in the area."
King Salman has announced that the families of all fatally wounded victims, as well as those who received permanent disabilities will be compensated with 1 million riyals ($267,000) and those with treatable injuries will be given half of that sum.
Despite the incident, the Hajj, the annual holy pilgrimage to Mecca, will proceed as normal, and is expected to attract two million people.
You can share this story on social media: