'Clear & present danger': Intel announces research group to fight car hacking
If you thought hackers only targeted computers, you're wrong. Car hacking is a reality, and Intel is aiming to prevent hackers from accessing vehicles connected to the internet. It comes after the successful hacking of a Jeep, which prompted a massive recall.
"Cars are like any other computing system, they have points of access and points of weakness," Chris Young, Intel security senior vice president, told CNBC's 'Squawk Alley.' "We do believe standards are going to be required here."
Indeed, vehicles are filled with numerous technologies – more than most drivers even realize. Google's Android Auto and Apple's CarPlay are just two of the many pieces of software driving around in our cars with us.
But now, Intel – the maker of most chips and processors included in the majority of personal computers – has announced the creation of its own Automotive Security Review Board, which would test and develop techniques and strategies to make software in cars more secure. The company is currently recruiting security professionals to join the panel.
"Computer attacks are now a clear and present danger for car users, dealers, manufacturers and suppliers. Computer security joins reliability and safety as a cornerstone for consumer confidence and continued success in the automotive industry," Intel said in its proposal, as quoted by Jalopnik.
Intel has already released a document entitled 'Automotive Security Best Practices,' in which it details suggestions for automakers to increase the security of their vehicles.
Intel says the more complex and sophisticated systems are larger targets for hackers, and has published a diagram of the 15 most hackable or exposed features on a car. Those include the Engine & Transmission Engine Control Unit (ECU) and the steering and braking ECU, among others.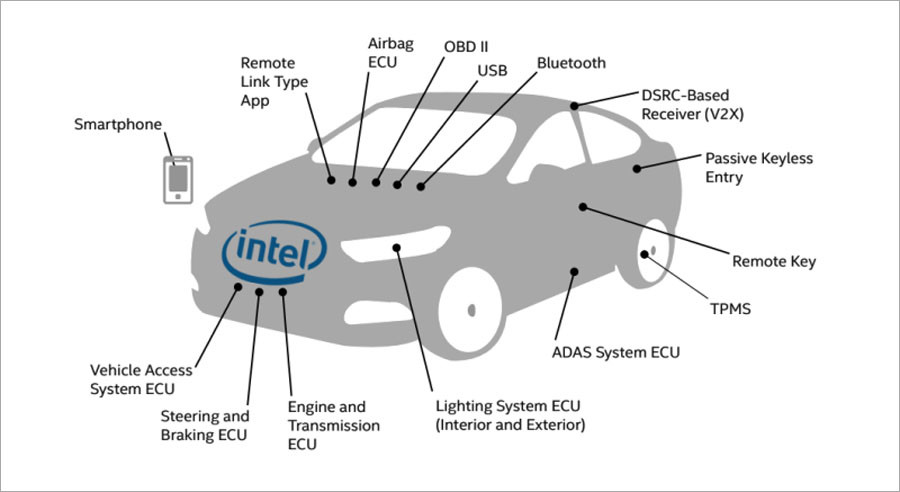 "The reality is, we're implementing so much more functionality in automobiles that it delivers great value, but it also exposes more attack surfaces," said Lorie Wigle, general manager for 'Internet of Things' security at Intel, as quoted by Market Watch.
Intel's announcement comes just two months after researchers were able to successfully hack into a Jeep Cherokee and drive it into a ditch, controlling the car's dashboard, steering, brakes and transmission from their laptop. The hacking resulted in millions of cars being recalled, and policymakers have since called for stricter cybersecurity rules for automakers.
The same day the Jeep was hacked, Senators Ed Markey (D-Mass.) and Richard Blumenthal (D-Conn.) introduced a bill directing federal regulators to set security standards for vehicles. It came after Markey's office published a report in February, which stated that nearly all cars could be vulnerable to hacking.
"Drivers shouldn't have to choose between being connected and being protected," Markey said in a press release at the time. It came after Markey's office published a report in February that said nearly all cars could be vulnerable to hacking.
The need for vehicle hacking protection is a growing one, with US research company Gartner estimating there will be a quarter of a billion vehicles connected to the internet by 2020.
Protecting vehicles against car hacking is also expected to become more pertinent as driverless cars become a reality. Autonomous cars now have their own city in Michigan, where researchers can test the vehicles in a 32-acre mix of trees, artificial buildings, traffic lights, and other obstacles.