850 tons of 'decontaminated' Fukushima water dumped into ocean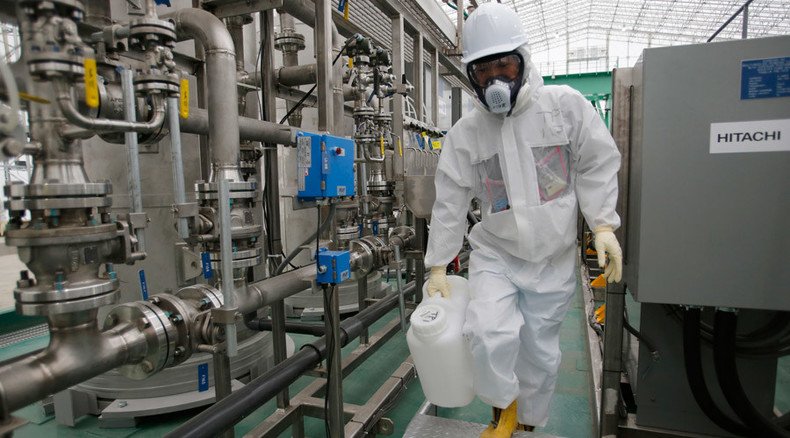 The first batch of radioactive groundwater filtered below "measurable limits" at Japan's tsumani-stricken Fukushima nuclear power plant has been dumped into the ocean, as TEPCO seeks to ease toxic water building-up at the site.
Tokyo Electric Power Co. (TEPCO) that operates the crippled nuclear plant released its first 850 tons of filtered radioactive groundwater by sundown on September 14. This is a part of TEPCO's "subdrain plan" that was approved in late July after a year-long battle with local fishermen who opposed the release fearing that it would pollute the ocean and contaminate marine life.
A third party panel has given the green light to the release after confirming that the radioactive content was below measurable limits, according to The Japan Times. TEPCO allows one becquerel of radioactive cesium per liter of decontaminated groundwater, three becquerels for elements that emit beta rays and up to 1,500 becquerels for tritium, which cannot be removed with existing technology.
Monday's batch measured 330 to 600 becquerels per liter, TEPCO said, citing analyses conducted by the company and an outside organization.
Under the plan, TEPCO has to pump tons of water from 41 subdrain wells around the main buildings of the power plant and decontaminate it before the release. It has planned to pump 100 to 200 tons of groundwater daily and later increase it to 500 tons unless it triggers problems with the decontamination facilities.
By dumping the treated water into a protected port area of the ocean, TEPCO and the government expects to halve the approximately 300 tons of contaminated water that is generated at the plant daily as well as reduce groundwater flowing into the reactor buildings.
TEPCO has yet to deal with remaining 680,000 tons of water that was used to cool the reactors during the 2011 meltdown.
"The risk that you run is that you have all these tanks full of water," Dale Klein, the chairman of a committee created to prevent possible meltdowns, told AFP. "The longer you store the water, the more likely you are going to have (an) uncontrolled release," he said. Klein added that he hopes the supplies will be released from storage in the next three years.
READ MORE: Fukushima leaks radioactive water after Typhoon Etau busts drainage system
TEPCO, much criticized for handling the tsunami-triggered meltdown at Fukushima No.1 reactors, is running behind schedule on a project to build a huge underground ice barrier – the "ice wall" – around Fukushima plant as it tries to stop groundwater from reaching the reactor building basements.
In addition, flooding from Typhoon Etau caused new leaks of contaminated water to flow from the Fukushima nuclear power station into the ocean last week. The incident came after a rush of water overwhelmed the site's drainage pumps.
LISTEN MORE:

You can share this story on social media: