End of Schengen? EU countries toughen border control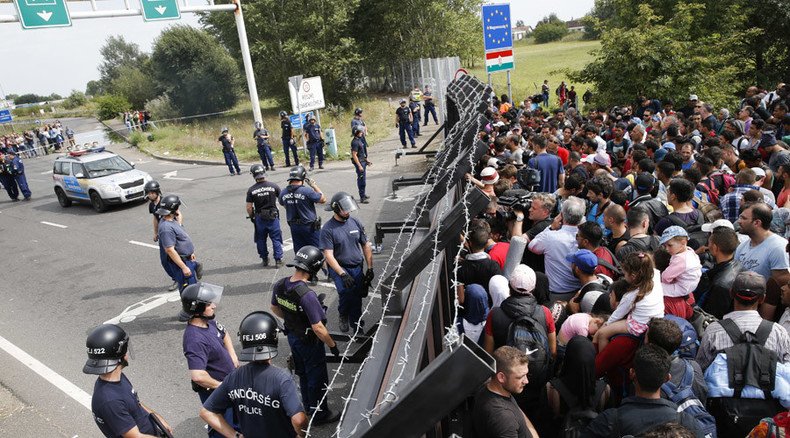 With 'temporary' border controls and law enforcement forces sent to European frontiers to secure tougher checks, EU officials have agreed to relocate a further 120,000 asylum seekers around the bloc. It is still unclear how those relocated will be shared out.
22 September 2015

12:12 GMT

MEP and Belgian ex Foreign Minister Louis Michel urged to suspend Hungary's right to vote in the European Council over its handling of the asylum seeker crisis.

"By mistreating these vulnerable people who came seeking protection, [Hungarian Prime Minister] Viktor Orban denies our most fundamental principles. The limits have been exceeded, Article 7 of the Treaty [of EU] must be implemented," said Michel in a statement.

Michel added that "immediate sanctions" should be applied to Budapest.

11:07 GMT

Islamic militants may recruit asylum seekers coming to Germany from war-torn Middle East countries and North Africa, said Hans-Georg Maassen, the president of Germany's BfV domestic intelligence agency, as cited by Reuters.

"There is a big worry that Islamists in Germany, on the pretext of offering humanitarian help, could try to take advantage of the migrants' situation to convert and recruit those seeking asylum …Our attention is particularly focused on unaccompanied young refugees who could be easy prey for Islamists," he said.

21 September 2015

10:58 GMT

Prime Minister Viktor Orban called on all political parties in Hungary to support him in his struggle to deal with the asylum seeker crisis, Reuters reported. He added that EU member states are forced to protect themselves from the "brutal threat" of mass migration.

"Our borders are under threat, our life is based on a respect for the law... and the whole of Europe. We are being run over," he said.

20 September 2015

21:03 GMT

Hungary's interior minister, Nebojsa Stefanovic, and his Serbian counterpart, Sandor Pinter, have opened one border crossing together – Horgos-1. The crossing was closed on September, 17, as Hungary closed its border trying to stop the influx of migrants and refugees. The agreement to open the crossing was reached by foreign ministers in Belgrade on Friday. Both sides say the decision is in line with economic interests of their countries.

13:44 GMT

Thirteen migrants died in Turkish waters when a boat carrying 46 people en route to Greece collided with a dry cargo vessel and capsized, a Turkish coast guard source said on Sunday. Six of those killed were children and 20 others were rescued, the source said. Seven of those rescued were receiving treatment. The boat had left the Turkish coast near Canakkale province. The search continues to find 13 missing people. (Reuters)

13:04 GMT

French Prime Minister Manuel Valls said on Sunday it is necessary to establish a fair system of distribution of refugees and migrants between European countries. He emphasized that France cannot accept all the people fleeing from the conflict zones.

Valls also proposed creating migrant and refugee reception centers in the countries of first entry – Italy and Greece – in order to redistribute asylum seekers across the EU from these centers. He also said that France committed to accommodate 30,000 Syrian refugees over the next two years.