Austria deploys army to boost refugee checks, Slovakia brings back border controls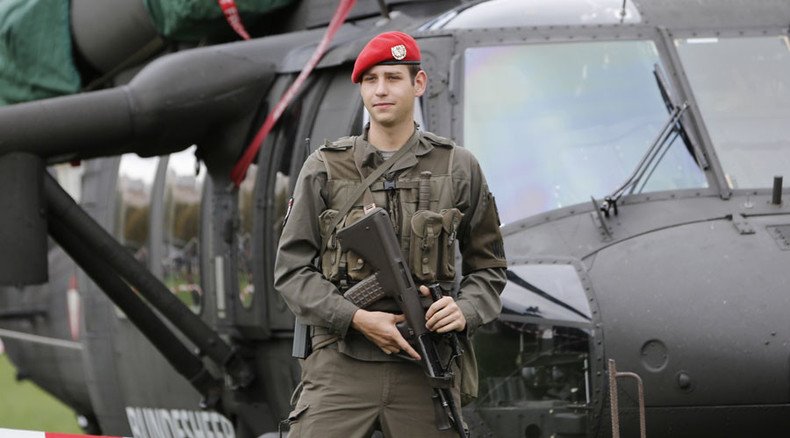 The Austrian army has been sent to assist in introducing tougher border checks amid the growing migrant crisis, Reuters cited the country's vice-chancellor as saying.
At least 2,200 soldiers will assist police in tackling the refugee crisis on the border, according to a statement from the Austrian government.
The soldiers will be deployed when their help is required, Austrian Chancellor Werner Faymann said, Krone newspaper reported.
"If Germany carries out border controls, Austria must put strengthened border controls in place," Vice Chancellor Reinhold Mitterlehner said in a joint news conference with Chancellor Werner Faymann. "We are doing that now."
Thousands of asylum seekers continue to pour into Austria from Hungary. Police told Reuters that 8,400 people had arrived on Sunday.

"The flow of refugees remains very high," the spokesman said. "I don't think I would be wrong in saying that we might exceed the threshold of 10,000 if it continues like this."
Police spokesman Gerald Pangl told AP that some 14,000 people had arrived in the town of Nickelsdorf on Sunday, and about 2,500 in the early hours of Monday.
Meanwhile, Hungary has closed the airspace along its border with Serbia, Reuters reported citing the country's National Transport Authority. The airspace is closed in a 20 kilometer (12 miles) strip along the border, up to a height of 1,350 meters (4,500 feet), and will not affect scheduled international passenger flights. The closure came into effect earlier on September 10, the official statement said, and will remain until further notice.
READ MORE: EU approves military action against people smugglers in Mediterranean - reports
Slovakia has introduced temporary controls on its borders with Hungary and Austria, sending an additional 220 police officers, the country's Interior Ministry said Monday.
The move comes after Germany introduced border checks over the weekend to tackle the flow of asylum seekers.
Earlier, Austria's road operator announced that the A4 motorway linking Austria to Hungary, near the town of Nickelsdorf, where thousands of migrants were stuck on their way to Germany, had been closed. However, the motorway was later reopened, the company's spokesman said, adding that "if people were to be present on the highway, the police will close the motorway again."
You can share this story on social media: