Crane crash at Grand Mosque of Makkah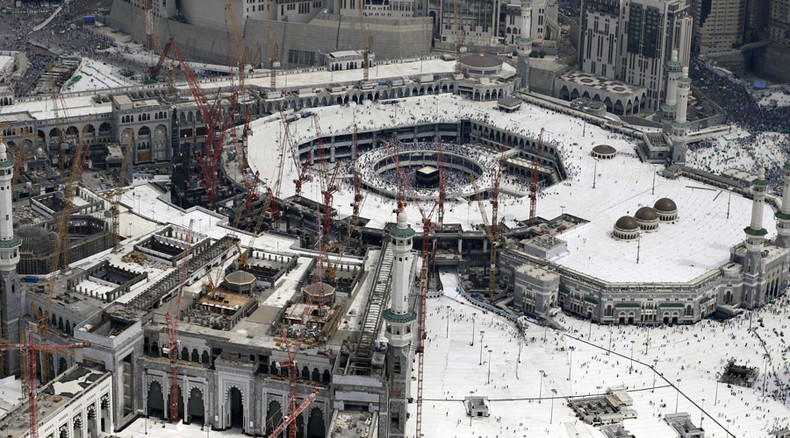 A crane has collapsed at the Grand Mosque of Mecca killing dozens and injuring over 150 people just weeks before Islam's annual Hajj pilgrimage.
12 September 2015

12:44 GMT

12:43 GMT

Two Indonesians were killed, according to the officials of the country with the world's largest Muslim community, and among the injured there were Malaysians and Iranians, AFP reported. During the hajj, one of the world's largest religious festivals, Mecca's Grand Mosque usually attracts hundreds of thousands of pilgrims from all over the globe.

12:27 GMT

BREAKING: 95 of those wounded in #Makkah crane collapse leave hospital, #Saudi health ministry says

— Al Arabiya English (@AlArabiya_Eng) September 12, 2015

12:21 GMT

Saudi authorities say the crane tragedy will not halt one of the world's largest religious gatherings, the hajj. To reduce accidents during the annual rite, Makkah simultaneously introduced limits on the millions of Muslims converging to the city for the hajj and broadened access paths to the shrine.

"The incident won't affect the hajj pilgrimage this year and repairs to the damaged section (of the mosque) will begin within days," Reuters cited an unnamed Saudi official as saying.

Mecca's governor, Prince Khaled al-Faisal, has ordered an investigation into the crane collapse.

12:03 GMT

Saudi Arabian authorities said stormy winds were responsible for the crane toppling onto one of Islam's holiest shrines.

"Heavy rain and strong winds of unusually high speed led to the uprooting of trees, the fall of panels and the collapse of the crane," Reuters cited General Suleiman al-Amr, director general of the Civil Defence Authority, as tell Al Arabiya TV on Saturday.

The death toll of 107 people may rise, as 238 people have been injured in the incident.

02:34 GMT

Some witnesses have claimed that the crane might have been struck by lightning.

11 September 2015

21:55 GMT

The death toll in the accident has jumped to 107 people, while 238 more have been injured, the Saudi Civil Defense Authority said.

20:57 GMT

Director General of the Civil Defense Authority, confirmed to al-Ikhbariya television that storm winds had uprooted trees and affected cranes in the area.

"All those who were wounded and the dead have been taken to hospital. There are no casualties left at the location," he added.