'Europe's Guantanamo': Refugees in Hungary fed 'like animals in pen' (VIDEO)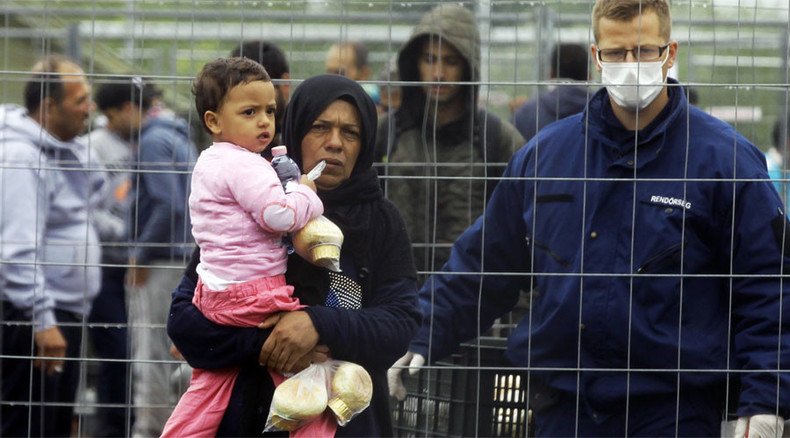 Dramatic footage has emerged showing people at Hungary's main refugee camp on the border with Serbia being fed like wild animals. Crowds of refugees, children and women among them, shout to get the officers' attention, struggling to catch the bread thrown to them through the air.
Some 150 people can be seen at Roszke camp in a fenced-in enclosure inside a big hall as Hungarian police, equipped with helmets and hygiene masks, throw bags of sandwiches at them.
The video was shot secretly by an Austrian volunteer who visited the flashpoint camp earlier this week. The footage, which was uploaded on YouTube late Thursday, had over 25,000 views by Friday afternoon.
"It was like animals being fed in a pen, like Guantanamo in Europe," Alexander Spritzendorfer, whose wife, Michaela filmed the scenes, told AFP. The couple came to Roszke to bring food, clothes and medication to the refugees.
"It was inhumane and it really speaks for these people that they didn't fight over the food despite being clearly very hungry," Michaela Spritzendorfer-Ehrenhauser said.
"It was around 8 o'clock and they were giving dinner to people," she said. "There were maybe 100 people trying to catch these plastic bags with sausages... They were not able to organize a camp and treat them like human beings," Reuters quoted Spritzendorfer-Ehrenhauser as saying.
Hungarian police said Friday they had launched an urgent investigation into the video.
Meanwhile, government spokesman Zoltan Kovacs claimed that people were spending only a few hours in an "optimal case" at this detention center. But they can remain there for up to two days under a procedure permitted by the EU.
"I can see policemen who have been performing their duties for months, trying to take care of 23,000 migrants arriving continuously day by day, while there is no cooperation whatsoever on their part," Kovacs told Reuters. "I can see they are trying to maintain order among those who are unable to line up for food."
With Europe experiencing an escalating refugee crisis, Hungary is bearing the brunt of the latest influx as thousands of refugees flee violence in the Middle East and North Africa. Tens of thousands of asylum seekers are entering the European Union, using Hungary as a transit country as they seek to reach better-off countries such as Germany, Austria and Sweden.
On Wednesday, a journalist for Hungary's N1TV channel, associated with the far-right Jobbik party, was fired after her colleagues filmed her kicking and tripping up migrants, including children, fleeing from the police. Camerawoman Petra László was filming at a migrants' center near the village of Roszke on the Hungarian-Serbian border when hundreds of migrants broke through a police cordon in a field.
At one point, she found herself in the middle of a throng of people running from the police. After a couple of migrants accidentally bumped into László, she moved to one and aimed a kick at a young refugee girl passing by. Later on, filming a police officer trying to detain a man carrying a young boy, the journalist apparently deliberately stuck her leg out and tripped the man up, causing him to fall on the ground along with the child.
You can share this story on social media: