Refugee crisis: Austria halts train service with Hungary due to 'massive overburdening'
Austria's national railway operator says it is halting train traffic to and from Hungary due to "massive overburdening." It comes as Europe continues to face an escalating refugee crisis.
"We need to temporarily suspend the operation of trains to and from Hungary due to the massive congestion...until further notice, no tickets are available," Austrian Federal Railways wrote on its website.
It added that a rail replacement bus service is in effect, along with regular buses.
The rail company said that services will be suspended for at least the rest of Thursday because Austria cannot handle the volume of migrants crossing its border.
A spokesman for the company said it is too soon to tell whether services will resume on Friday.
"It would be irresponsible to simply let people keep streaming in and spend the night at train stations," the spokesman said.
Meanwhile, Hungarian railways operator MAV has started running replacement trains to the Hegyeshalom border station to normalize services, the company said in a statement.
It added, however, that delays are expected on the route from Budapest to Hegyeshalom on the border with Austria.
Earlier this week, Austrian Chancellor Werner Faymann told reporters that his country would begin phasing out emergency measures that have helped thousands of refugees make their way to Germany – the most popular destination for new arrivals.
"We have always said this is an emergency situation in which we must act quickly and humanely," Faymann said on Monday.
"We have helped more than 12,000 people in an acute situation. Now we have to move step-by-step away from emergency measures towards normality, in conformity with the law and dignity."
Thousands of refugees have been flocking to Austria since it announced last week that it will accept asylum applications.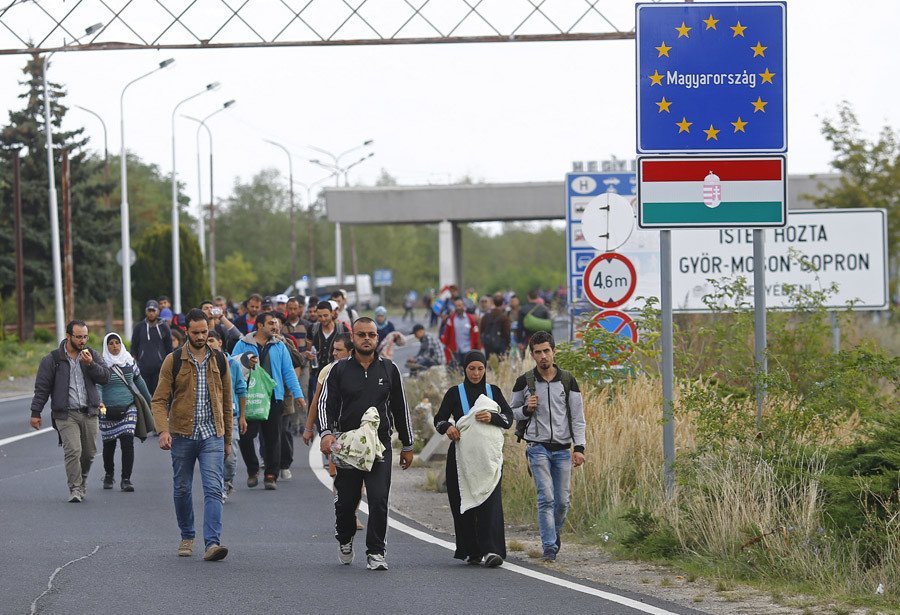 Vienna previously criticized its neighbor, Hungary, for building a razor-wire barrier along its border with Serbia to deter the flow of refugees - a move that resulted in Austria's ambassador being summoned to Budapest.
That barrier, however, has failed to stop large numbers of people climbing over or under it. This has prompted Hungary to start building an additional fence.
The Hungarian prime minister's chief of staff said on Thursday that the new fence could be completed a month ahead of schedule, by early October.
The Thursday announcement from Austrian Federal Railways comes just one day after train services between Denmark and Germany were stopped because of exceptional passport checks at the border.
Limits on train traffic for Denmark-Germany route still remain, though a motorway connecting the Danish peninsula Jutland to Germany reopened on Thursday, according to Danish authorities.
Europe is currently facing the worst refugee crisis since World War II, with 380,000 people estimated to have arrived within its borders this year alone.
LISTEN MORE:
You can share this story on social media: