Yahoo Screen banned in Russia after requests to block ISIS video ignored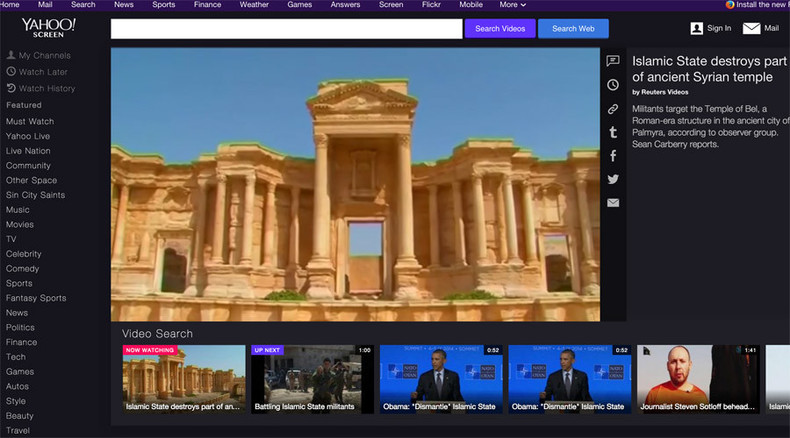 Russia has banned the Yahoo! Screen video streaming service, after a total of eight formal requests from internet watchdog Roskomnadzor demanding the removal of an Islamic State (IS, ISIS/ISIL) propaganda video were ignored.
Over the past year, Roskomnadzor has sent the on-demand streaming service, screen.yahoo.com, eight separate requests to remove the 55-minute video from its site, the watchdog's spokesperson Vadim Ampelonskiy told RIA Novosti. The video, used by the terrorist group for global recruiting, had been included on Russia's ban list registry, making it illegal.
However, all communication was ignored by the American company. "Due to this, we sent the movie link to be blocked by communication operators today [Wednesday]. The operators have already begun the blocking process," Ampelonskiy explained.
The ban on Russian territory will affect the whole video service because of the HTTPS protocol, which does not allow one single page to be blocked because operators cannot analyze each URL separately, he added.
The ban will not be expanded to the general Yahoo site, but other services like Yahoo News could be affected since they use the same IP address.
The Russian watchdog is still hoping that the Yahoo video service will block access to the video, adding that usually companies comply with such requests.
At the end of August, Roskomnadzor announced it would order a Wikipedia page on preparing and using a banned drug from an Indian variety of cannabis called charas to be blocked. However, the order was rescinded the next day. The watchdog had earlier issued an official warning to Wikipedia, asking the Russian branch of the project to delete the page.
READ MORE: YouTube might be blocked by Russian internet providers from late July
In late July, Roskomnadzor warned that YouTube could be blocked by the end of that month because some videos with copyright infringement hadn't been removed by the site. It set a deadline of July 27 for the company to delete the illegal content.
"Pre-action remedies were implemented against YouTube video hosting in order to protect the exclusive property rights of two TV series at the request of the TNT-network company in accordance with a ruling by the Moscow City Court," the watchdog's statement said.
The Russian website ban list was first established in 2012 to deal with illegal content, including child pornography, suicide guides, and drug production technologies.
Roskomnadzor has the authority to add webpages to the list, which are then blocked by Russian ISPs. More often than not, they are unable to ban a specific page and forced to block the whole website.