Tanks vs. 'terrorists': Watch unprecedented live broadcast of Russian military show on RT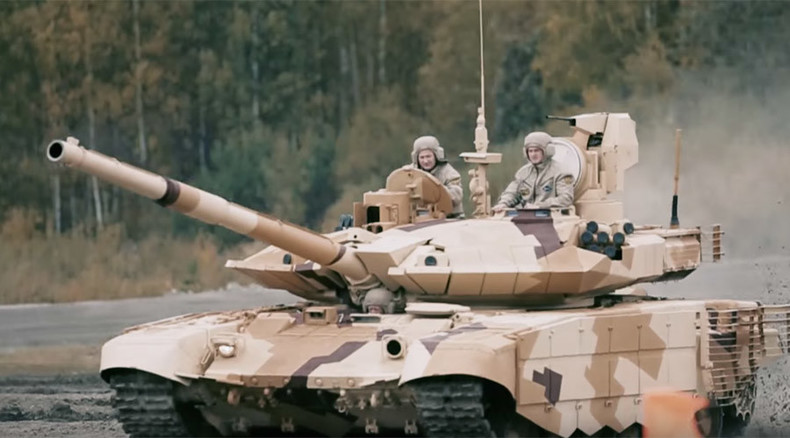 RT's YouTube channel will stream a spectacular military demo from the Russian Arms Expo, in which armor, infantry and air force will combine to defeat an "entrenched terrorist force." The live stream will open at 9 a.m. GMT on Wednesday.
The show is a unique cinematic experiment. It will be viewed by over 4,000 people on-site. For RT audiences it will be the first-ever live broadcast of a military demo. And for those watching in Russia, it will be a live insert into a scripted action film.
More than 30 cameras have been installed around the training range in the Ural Mountains city of Nizhny Tagil, home of Uralvagonzavod, the maker of Russia's next-generation Armata tanks that is sponsoring the event as part of Russian Arms Expo.
READ MORE: Armata T-14: 10 things we know about Russia's state-of-the-art tank
"We want the demonstration of military equipment to become a show that can be enjoyed in any part of the world. We are using the same cameramen who filmed the Sochi Olympics last year, and we want the broadcast to be like a sports show. No one has ever filmed military displays like that before," Aleksey Zharich, the Uralvagonzavod spokesman, told the local V Tagile newspaper ahead of the broadcast.
Zharich said that he expected between 40 and 100 million to tune into the live stream, and the eventual audience of the footage to reach 1 billion views.
While the plot of the full-length film, Razgrom (Rout), which will be shown either side of the live show for Russian audiences, has been kept under wraps, the trailer suggests it involves decimating an encampment of domestic terrorists.
The show is an appetizer for the serious business of arms trading, with 200 companies making deals with representatives of 65 countries over three days at expo, which has been running since 1999. Among the expo debuts will be the T-14 Armata, which will be displayed up-close for the first time ever.